Oil Rises on Dollar Tumble, Ignoring Highest Supplies Since 1930
by
U.S. supply rose to 502.7 million barrels last week, EIA says

Dollar falls as much as 1.9 percent, most since March 2009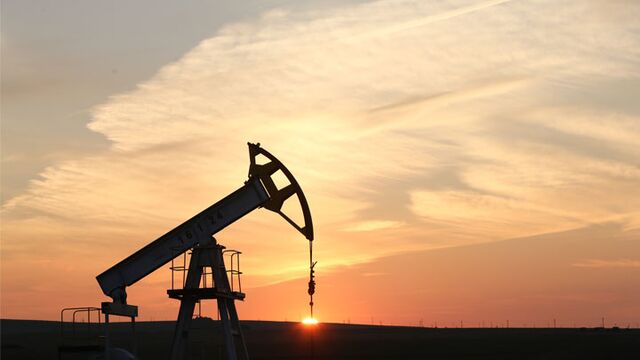 Oil rose as the falling dollar countered any concerns in the market over a steep gain in U.S. crude inventories to more than 500 million barrels for the first time since 1930.
Commodities rallied as the Bloomberg Dollar Index, which tracks the currency against major peers, fell as much as 1.9 percent. Oil futures briefly retreated after the Energy Information Administration reported that U.S. crude stockpiles climbed 7.79 million barrels to 502.7 million last week. That was almost twice the 4 million-barrel increase projected by analysts surveyed by Bloomberg.

"Crude inventories are above 500 million barrels for the first time since Babe Ruth was hitting home runs in the Bronx, but the market is more interested in the dollar," said Stephen Schork, president of the Schork Group Inc. in Villanova, Pennsylvania. "The Fed is driving the crude market today, not the EIA."
Oil dropped to a 12-year low in January amid brimming U.S. crude inventories and the outlook for increased exports from Iran after the removal of sanctions. The slump continues to take its toll on oil producers: Exxon Mobil Corp. reduced its drilling budget to a 10-year low, and Chevron Corp. saw its credit rating cut by Standard & Poor's for the first time in almost three decades.
West Texas Intermediate for March delivery rose $2.40, or 8 percent, to $32.28 a barrel on the New York Mercantile Exchange. It fell 11 percent on Monday and Tuesday, the biggest two-day drop in almost seven years. The volume of all futures traded was 93 percent above the 100-day average at 2:45 p.m.
Dollar Weakness
Brent for April settlement climbed $2.32, or 7.1 percent, to $35.04 a barrel on the London-based ICE Futures Europe exchange. The European benchmark crude closed at an $1.18 premium to April WTI.
The U.S. currency fell after a report showed service industries expanded in January at the slowest pace in nearly two years, fanning concern that economic growth is cooling. The bond market has been sending that message the past two weeks, with 10-year yields sinking to the lowest in a year and Federal Reserve funds futures signaling closer to no interest-rate gain than one for 2016.
Oil supply and demand should tighten by 1.7 million barrels this year, Andy Hall, one of the best-known oil traders who runs hedge fund firm Astenbeck Capital Management, said in a Feb. 1 letter to investors.
Volatile Market
"The market is very volatile," said Matt Sallee, who helps manage $13.5 billion in oil-related assets at Tortoise Capital Advisors in Leawood, Kansas. There won't be a sustained rebound until "apparent decline in our production and inventories, something we don't see happening in the next few months."
Crude stockpiles at Cushing, Oklahoma, the delivery point for WTI at the nation's biggest storage site, rose by 747,000 barrels to 64.2 million last week, 24,000 barrels short of a record. The hub has a working capacity of 73 million barrels, according to the EIA.
U.S. refineries operated at 86.6 percent of capacity on Jan. 29, down 0.9 percentage point from the prior week. Refiners in the country typically reduce activity in February and March as they perform maintenance during a low fuel-demand period.
"It's debatable about just how much storage capacity is at Cushing," Sallee said. "The challenge will come when refinery maintenance really picks up in mid-March." 
Crude imports surged 8.5 percent to 8.26 million barrels a day. U.S. crude production slipped 7,000 barrels a day to 9.21 million.
Rising Imports
"Imports were up as rivals sent their barrels here," said Mike Wittner, head of oil-market research in New York at Societe Generale SA. "WTI and other U.S. grades were quite strong against Brent a few weeks ago and now it looks like cargoes fixed then are arriving."
Gasoline stockpiles climbed 5.94 million barrels to 254.4 million, the highest in weekly record going back to 1990. Inventories of distillate fuel, a category including heating oil and diesel, dropped 777,000 barrels to 159.7 million.
March gasoline futures rose 1.3 percent to settle at $1.0137 a gallon. The contract ended Tuesday at $1.0008, the lowest close since December 2008. Diesel for March delivery increased 6.7 percent to $1.0786.
Before it's here, it's on the Bloomberg Terminal.
LEARN MORE