McDonald's Offers Japan Chocolate Fries While It Mulls Unit Sale
by
`McChoco Potato' tests Japanese taste for salty-sweetness

Burger chain seeks new menu offerings in Japan to stem losses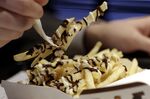 In an effort to win back customers after a series of food scandals, including a human tooth in a serving of french fries, McDonald's Japan has come up with a surprise.
The "McChoco Potato" went on sale last week, tempting the Japanese public with white-and dark chocolate-covered french fries.
"My friends said they're good," said Mayu Oishi, 22, squeezing a small container to dispense the two-tone sauce over the golden potato batons she skewers with a fork. "Not too bad. It's like a snack or a dessert." 
The unlikely combination represents the latest effort to coax the return of customers with menu tweaks following food scandals that will probably cause the company to report on Feb. 9 its second straight year of losses. With its Oak Brook, Illinois-based parent pondering selling a stake in the unit, there's also pressure to climb back to profit.
"They shouldn't expect to crack a big home run after their image collapsed completely like that," said Seiichiro Samejima, an analyst at Ichiyoshi Research Institute Inc., who recommends investors sell McDonald's Holdings Co. (Japan) shares. "I don't see any breakthrough in their menu yet."
At 330 yen ($2.70), the latest menu addition costs 60 yen more than a medium serving of regular fries.
A year ago, the burger chain's customers in Japan faced a different kind of surprise. In addition to the tooth found in a pack of fries, plastic bits turned up in a sundae. Months before that, the Tokyo-based company halted chicken-nugget sales after its supplier in China was embroiled in a food safety scandal.

To try to regain consumer trust, McDonald's Japan announced a plan last February to prevent further risks and to streamline customer claims and complaints. The plan included extra training for 150,000 employees, intensive cleaning and maintenance and requests to suppliers to be more vigilant of foreign objects.
On top of that, it added the "Mieru, McDonald's Quality" page to its website, fielding consumer-questions about the manufacturing and processing of its meals, and began a project called "Mom's Eye" to better reflect young mothers' opinions and expectations of its products.
Even before the food-safety incidents, McDonald's Japan has struggled to counter waning interest in the Western fast-food culture it introduced in 1971, with the opening of its first restaurant, in Tokyo's upscale Ginza shopping district. 
In addition to a declining Japanese population, the burger chain has faced changing consumer preferences. Some health-conscious customers have sought less-calorific meals, while others have shifted to convenient stores, such as those operated by Seven & i Holdings Co. and Lawson Inc., that sell a wide variety of hot meals.

McDonald's Japan forecast last April a loss of 38 billion yen for 2015, after a 21.8 billion yen loss the previous year, prompting President Sarah Casanova to apologize in public and take a temporary pay cut. To rebuild customer trust and turn around the business, the company has been closing under-performing stores and introducing new menu items.
Same-store sales rose 8 percent, the most in the past three years, in December, when restaurants offered winter-only Gratin Croquette burgers, McDonald's latest data shows. The company cited the popularity of recently introduced items and limited offerings for the increase.
While the Japanese unit strives to carry out rebuilding measures, McDonald's Corp. is looking at unloading a stake in the money-losing business, Chief Financial Officer Kevin Ozan said, according to a Bloomberg transcript of a conference call held last month.
Shares of McDonald's Japan have fallen about 9 percent since Dec. 22, when the Nikkei newspaper first reported its U.S. parent is seeking to sell as much as 33 percent of outstanding shares in the unit. McDonald's, whose shares rose 6 percent in the same period, has met several potential buyers and some, including Bain Capital LLC and Permira likely submitted bids, Nikkei reported last month, without citing anybody.
Image Recovery
"What a new investor needs to do most is to recover McDonald's brand image," said Ichiyoshi's Samejima." "There's a chance that the U.S. McDonald's has to hold onto the stake if it can't lure anybody."
McDonald's Japan's shares rose 0.8 percent to 2,470 yen in Tokyo trading Tuesday, narrowing this year's loss to 5.7 percent. They touched 2,215 yen on Jan. 22, the lowest level since November 2012.
"They really need to come up with one or two menu hits," said Thomas Jastrzab, a retail analyst with Bloomberg Intelligence in Tokyo. "While the chocolate-covered french fries help generate short-term buys, it's really about creating more interest in their menu longer term." 
"If they can do that, then all of a sudden they have a wider range of customers they never had before and that will drive regular foot traffic," he said.
Before it's here, it's on the Bloomberg Terminal.
LEARN MORE