May Signals Support for U.K.-EU Deal in Blow to 'Leave' Campaign
Eddie Buckle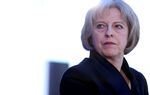 U.K. Home Secretary Theresa May threw her support behind a compromise plan put forward by European Union President Donald Tusk aimed at keeping Britain in the 28-member bloc.
May's backing indicates she'll campaign for Britain to stay in when a referendum is held, dashing hopes in the "Leave" camp that she might back an exit. The home secretary made a speech at last year's Conservative Party conference attacking large-scale immigration.
Tusk released a plan Tuesday that would let the U.K. restrict the payment of benefits to foreign workers by triggering an "emergency brake." Prime Minister David Cameron said he's ready to campaign to stay in the EU on the basis of the plan once he's reached a deal with other leaders of the bloc, possibly at a summit in two weeks' time.
"EU free-movement rules have been abused for too long and EU law has stopped us deporting dangerous foreign criminals. That is plainly wrong and it is encouraging that the commission has agreed with the U.K. that we should take action to address these two issues," May said in a statement. "We have made progress and negotiations continue ahead of the February council. As the prime minister has said, more work needs to be done, but this is a basis for a deal."
Before it's here, it's on the Bloomberg Terminal.
LEARN MORE