Lazard CEO Jacobs Says Activism 'Here to Stay' After Dow, Xerox
by
Lazard is advising on Dow-DuPont deal and Xerox split

Jacobs says long-only investors, index funds are more engaged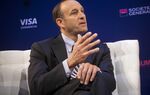 Shareholder activism that's spurring companies to pursue mergers and spinoffs will continue as institutional investors keep a closer eye on management, Lazard Ltd. Chief Executive Officer Ken Jacobs said.
"Activism is here to stay," said Jacobs, whose firm is advising Dow Chemical Co. in its agreement to merge with DuPont Co. as the chemicals maker fends off activist Dan Loeb. "It's just a form of investing that had some positive results for shareholders," Jacobs said in an interview Tuesday. Lazard is also working with Xerox Corp., the document-technology company that reached an accord with activist Carl Icahn to split into two companies.
Jacobs's comments contrast with Morgan Stanley's global head of mergers and acquisitions, Rob Kindler, who said in a CNBC interview last month that the investment strategy of taking large stakes in companies and pushing for change has "absolutely peaked." Kindler said prominent investors such as Bill Ackman and Nelson Peltz are having trouble finding good opportunities for such wagers.
"What's really changed is that shareholders are much more engaged in affecting a company's performance," Jacobs said. "That's not just activists. It's really long-only institutions, and increasingly even the index funds are more focused on performance of companies. And as a result of that it's a kind of environment that is going to be here for a long time."
Investment banks have been hiring advisers who help companies defend against hostile shareholders. Morgan Stanley last year took on David Rosewater, formerly a partner at law firm Schulte Roth & Zabel LLP, to lead its activism-defense group. Rival boutique firm Evercore Partners Inc. hired Bill Anderson from Goldman Sachs Group Inc., which said in July that it would expand its practice after the dealmaker's departure.
Before it's here, it's on the Bloomberg Terminal.
LEARN MORE