Kuroda Surprise Poses $250 Billion Question for Japanese Banks
by and
Banks must determine how to offset 0.1% fee on some reserves

Expanding loans, buying securities are among the options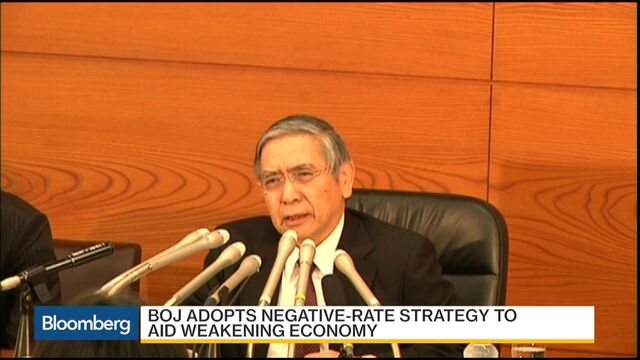 The Bank of Japan's surprise decision to start charging lenders for as much as 30 trillion yen ($250 billion) of deposits they have parked with it has left them with a quandary: what else to do with all that cash?
When Governor Haruhiko Kuroda's policy takes effect on Feb. 16, the 0.1 percent negative rate will probably apply to about 10 trillion yen to 30 trillion yen of funds held in current accounts at the BOJ, according to people with knowledge of the matter.
Negative rates are likely to shrink net interest margins that are already among the lowest in the world. Below are options for banks to put their excess reserves to other use, and to make up for the charges they face if they continue to leave the cash at the BOJ.
1. Increase domestic loans
Banks could try to expand credit to companies and households more aggressively. The problem is, demand for borrowing remains weak in an economy that grew at an annual 1 percent rate in the third quarter. Loan growth slowed in the last four months of 2015, BOJ data show.
"It is hard to see this negative interest-rate policy leading to any substantial loan growth," UBS Group AG analysts including Shinichi Ina wrote on Jan. 29.

2. Buy more Japanese government bonds
Banks could purchase more Japanese government bonds, but that would be problematic on at least two counts. First, one of the reasons why the BOJ began buying JGBs from banks and other institutions in the first place was so they could invest in other assets and help spark inflation. Indeed, banks have reduced their JGB holdings by about 38 percent to 103 trillion yen since Kuroda began easing in April 2013. Second, most short-term JGBs already have negative yields and banks are reluctant to hold longer-maturity debt because of the interest-rate risk. And besides, 10-year yields are now less than 0.1 percent. Hardly lucrative.

3. Buy other securities
Banks may gradually switch funds to foreign bonds in search of positive yields, according to Toyoki Sameshima, an analyst at BNP Paribas SA in Tokyo. To avoid foreign-exchange risk, they may also target investment in domestic real estate investment trusts, corporate bonds and commercial paper, he said.
It won't be easy for banks to grow outside Japan at the pace they once did, according to Ryoji Yoshizawa, a director at Standard & Poor's in Tokyo, who also sees banks boosting overseas assets as a possibility. "Foreign bond investment still comes down to foreign-currency funding," said Yoshizawa. "And you can't ignore the risks involved."
4. Charge savers
Banks could pass on the charges to their own depositors. Yet it's unlikely that they will resort to penalizing savers because the reputation risk is too high, UBS's analysts said. There are also practical barriers: banks would need to adjust systems that simply aren't geared up for charging interest to depositors, said S&P's Yoshizawa.
Shinsei Bank Ltd.'s President Hideyuki Kudo said on Jan. 29 that he would need to study examples from other countries, "but in reality I don't want to think about this, I can't see it happening.''
Banks in Scandinavia have also resisted charging depositors since negative interest rates were introduced in countries including Sweden.
Japanese lenders do have scope to at least trim the interest they pay depositors. Resona Holdings Inc. cut rates on some fixed-term deposits following the BOJ's move, said Nao Minamiguchi, a spokeswoman for the Tokyo-based lender. Whether such actions curtail a near-record excess of deposits over loans at Japanese banks remains to be seen.

5. Expand overseas
Japan's biggest banks including Mitsubishi UFJ Financial Group Inc. have been expanding overseas by expanding credit and taking stakes in lenders in Asia and elsewhere. With negative rates threatening to curtail loan profitability that's already among the lowest in the world, they could pour even more money abroad. Yet with the global economy slowing and emerging markets particularly vulnerable to a commodity slump, that's a risk. Loan growth in Asia has stalled at banks including Sumitomo Mitsui Financial Group Inc.
While most regional banks don't have the luxury to expand abroad by themselves, they could partner with larger lenders on syndicated loans, according to Shinichiro Nakamura, an analyst at SMBC Nikko Securities Inc.
6. Keep the money as cash
This isn't really an option. The BOJ said that if a bank increases its cash holdings significantly it will start charging interest on the same amount of the deposits that are classified as being subject to zero rates.
7. Cut costs
Banks could follow global peers such as HSBC Holdings Plc by cutting costs such as salaries. Yet that would run counter to Prime Minister Shinzo Abe's goal of sparking a positive cycle of wage growth, spending and inflation.
8. Merge
Negative rates could fuel consolidation among regional banks that lack the scale to lend enough money to make up for shrinking interest rates. Bigger local banks could take over their smaller peers, though that would put pressure on their share prices, said Nobuyuki Fujimoto, a senior market analyst at SBI Securities Co. "For the larger regional banks, the BOJ's decision is simply negative," he said.
Before it's here, it's on the Bloomberg Terminal.
LEARN MORE