Five Things Everyone Will Be Talking About Today
by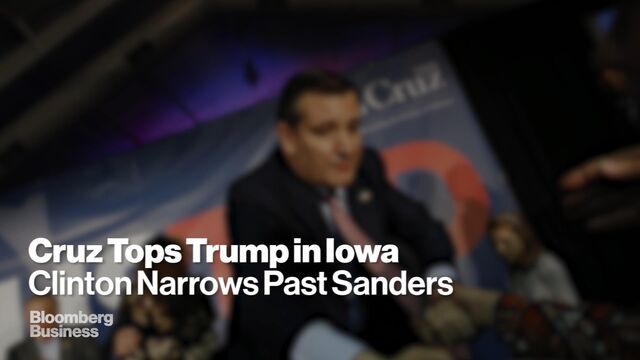 Cruz and Clinton triumph in Iowa, BP profits plunge and euro area unemployment falls. Here are some of the things people in markets are talking about today.
Iowa
Hillary Clinton emerged victorious in the closest ever Iowa Democratic caucus, with her 49.9 percent to Bernie Sander's 49.5 percent enough to ensure a win even with one precinct left to report. On the Republican side, there were two surprises: that U.S. Senator Ted Cruz won ahead of Donald Trump and that Florida Senator Marco Rubio finished such a strong third, gaining 23 percent of the vote to Trump's 24 percent. Another loser on the night were pollsters who had consistently predicted a Trump win.
BP profits collapse
BP Plc reported a 91 percent decline in fourth-quarter earnings, reporting adjusted profit of $196 million, far below the $814.7 million average estimate of 10 analysts surveyed by Bloomberg. The company's 2015 annual net loss is its worst ever. Shares were down 7.8 percent at 10:55 a.m. in London. Exxon Mobil Corp. is due to report earnings before the bell today.
Oil falls a second day
February is off to a bad start for oil investors who'd found some relief in the last days of winter, with futures decreasing as much as 2.6 percent in New York after slumping 6 percent Monday, erasing last week's gain. To add to producers' woes, Standard & Poor's yesterday cut Royal Dutch Shell Plc's rating to the lowest since it began coverage in 1990 and assigned a negative outlook to BP Plc, Eni SpA, Repsol SA, Statoil ASA and Total SA. Meanwhile, worries that low oil prices may be bad for the global economy are on the rise.
Euro area unemployment falls
Unemployment in the euro area fell to a five-year low of 10.4 percent in December, down from 10.5 percent the previous month. In Germany, unemployment fell to a record low of 6.2 percent in January as the numbers out of work dropped by a seasonally adjusted 20,000. In Italy, unemployment stayed unchanged at 11.4 percent in December, prompting growth concerns.
Coming up...
U.S. auto sales data for January are due today, with analysts expecting total vehicle sales to hit 17.3 million, up slightly from December's number, but below the 18 million level sustained in the previous three months. Investors will also be watching Alphabet Inc., the parent company of Google, as it is on track to overtake Apple Inc. as the world's most valuable company in trading after announcing profits that topped estimates after the bell yesterday. 
What we've been reading
This is what's caught our eye over the last 24 hours.
Want to receive this post, and more, into your inbox every morning? Sign up here
Before it's here, it's on the Bloomberg Terminal.
LEARN MORE