Number Crunching
How Ted Cruz Engineered His Iowa Triumph
A meticulous, technologically advanced, highly individualized groundgame—and legalized fireworks—trumped a certain outsider candidate.
By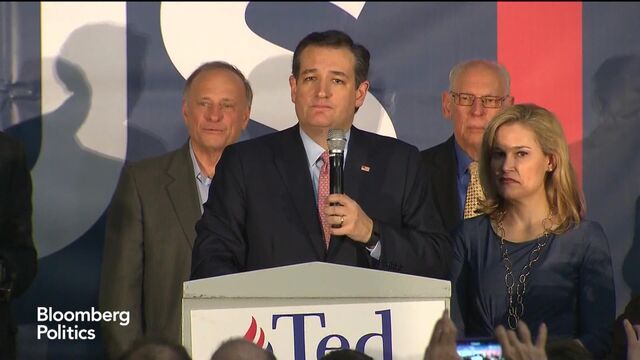 At just about 9 p.m. local time, the leadership of Ted Cruz's presidential campaign moved like a phalanx through the lobby of the Des Moines Marriott Downtown toward vehicles that would transport them to the Iowa State Fairgrounds, where Cruz was holding his caucus-night party. With three-quarters of Iowa's precincts counted and with the race, according to television networks, still "too close to call," campaign manager Jeff Roe declared victory.  
The boldest smile belonged to Chris Wilson, the campaign's pollster and director of analytics. The night before, Wilson had sent his final memo on the Iowa campaign, predicting turnout under 170,000; only if it broke above 190,000 would Cruz have to worry. "For now we look pretty on target," Wilson smirked as he dragged luggage that would shortly accompany him to New Hampshire and then South Carolina. "That's a good thing. It means I still have my job."
Exactly two weeks earlier, Wilson and his deputy, Tom Schultz, had been counting these very same votes long before they would be cast. They sat in a Houston salad shop that was among the restaurants closest to Cruz's headquarters but nonetheless was typically unfrequented by the Texan's staff. Schultz sketched the Iowa caucus electorate on a napkin, gesturing to the end of an axis where those most certain to vote would be placed. "We do much better up here than we do compared to Trump," said Schultz.
That afternoon, events would move in ways that seemed to confirm that Cruz's weeks as Iowa's clear front-runner had ended. Sarah Palin was scheduled to endorse the New York developer, and Governor Terry Branstad singled out Cruz as someone whom it would be a "big mistake for Iowa to support" because of his opposition to government support for ethanol. Those developments, and many others, reinforced the dynamic of a two-man race. "In Iowa, it's down to Trump and Cruz," a Politico headline claimed the next day.
Wilson swiftly recalibrated the challenge as a matter of numbers. On his phone, he summoned a report that counted 9,131 individual Iowans whom Wilson's statistical models had identified as choosing between the two leading candidates. Those people existed at the overlap of likely caucus-goers who were seen as considering both Cruz and Trump; anyone who also ranked Marco Rubio highly was pushed out of the group. "These aren't people you want to contrast with Trump and push to Rubio," explained Wilson. (There were, separately, 6,309 voters then choosing between Cruz and Rubio but not Trump.) Those who remained were a remarkably homogeneous group: 91 percent male, two-thirds of them likely to self-associate as evangelical Christians.
For the closing days of the Iowa campaign, Cruz's campaign had defined such pools for each of his major opponents as part of what was known internally as the Oorlog Project, named by a Cruz data scientist who searched online for "war" translated into different languages and thought the Afrikaner word looked coolest. It was just the latest way that Cruz's analytics department had tried to slice the Iowa caucus electorate in search of an advantage for its candidate. They had divided voters by faction, self-identified ideology, religious belief, personality type—creating 150 different clusters of Iowa caucus-goers—down to sixty Iowa Republicans its statistical models showed as likely to share Cruz's desire to end a state ban on fireworks sales.
Unlike most of his opponents, Cruz has put a voter-contact specialist in charge of his operation, and it shows in nearly every aspect of the campaign he has run thus far and intends to sustain through a long primary season. Cruz, it should be noted, had no public position on Iowa's fireworks law until his analysts identified sixty votes that could potentially be swayed because of it.
"People wonder about 'New York values'?" Wilson says, referring to Cruz's attack on Trump for once holding liberal views towards abortion and gay marriage. "That wasn't made in a vacuum."
Cruz was the first of the Republican candidates to announce his candidacy, and the timing he set to do so—with just a week to go in March—was a risky endeavor. Most candidates wanted to wait until April began so they would have the entire second quarter to raise money before disclosing their income; Cruz's first fundraising filing would cover only his initial week as a candidate. Campaign manager Jeff Roe had set a goal of $1 million over that week; ultimately Cruz hit that mark from large donors alone, and then raised several more from small-dollar contributions, mostly online. "The knock on Ted Cruz was that he couldn't raise money," Roe says. "That's when I realized it was more of a movement than a campaign."
Roe runs a Missouri-based firm that specializes in direct mail and phone calls, and brought the mind of a targeter to the helm of Cruz's campaign. (By contrast, Jeb Bush's manager, Danny Diaz, is a former opposition researcher and communications tactician; U.S. Senator Marco Rubio's, Terry Sullivan is a general consultant.) As a result, Roe tends to talk about the electorate as a pile of potential votes that can be piled atop one another—the candidate with the biggest lump wins—rather than a pie to be sliced into fractions. "I don't know if it's good or bad, but my background comes from being able to utilize small segments of voting populations and influence them on issues they care about—and not pack them into a big bucket," says Roe. "The fact is that different people are motivated by different things at different times."
As he staffed the campaign, Roe made the unusual decision to make Cruz's director of analytics and his pollster the same person. Wilson met Roe while the two were chiefs of staff for conservative House members both elected in the class of 2000. Roe has granted Wilson the most expansive brief of any pollster in either party's 2016 field: his surveys not only guide Cruz's strategy and define his message, but drive targeting decisions both online and off, including digital fundraising appeals.
In a party where large-scale volunteer-driven organizations are rare, Roe began imagining that grassroots enthusiasm could make Cruz's campaign the exception. As he imagined ambitious plans for the early primary states—in which Cruz would reach his vote goals in part by mobilizing Christian conservatives who rarely turned out otherwise—Wilson operationalized the strategy by devising a system where modeling of individual voters would become essential to effective targeting of the phone calls and door knocks that Cruz's supporters would deliver.
In April, Wilson's analytics department built a statistical model in the early primary states to predict which candidate each prospective voter was likely to support. Early on, such models should be helpful for identifying potential supporters who could be leaned on to donate or volunteer, but as the field sprawled into the double digits, the predictions became effectively useless. "It would fluctuate constantly," says deputy data director Schultz. "You model on Monday and Cruz gives a speech on Wednesday and the world changes—or Scott Walker announces on Thursday. So we just gave up."
Even if the race was fluid week to week, the essential dynamics were already evident. As a candidate seeking to emerge as the preferred candidate of the activist right, Cruz would have to place strongly in the Iowa caucuses. There were a number of rivals angling for a similar constituency: Rick Perry, Mike Huckabee, Bobby Jindal, Rick Santorum, even possibly U.S. Senator Rand Paul and U.S. Senator Marco Rubio, depending on how they chose to present themselves.
"Since Iowa is so heavily evangelical, our initial thinking was that we needed something that could define us. Everyone is pro-life—box is checked. Everyone is pro-marriage—box is checked. Go right down the list of conservative issues," said Wilson. That could change, he ventured, "if we can find the local issue that we can take a stand on that matters to them."

Schultz started collecting local newspaper editorials and holding phone calls with local activists and legislators in each of the early states, beginning with his native Iowa. In addition to seeking geographic and gender diversity, and representation from special constituencies like evangelicals and farmers, Schultz insisted that the campaign's political team bring him participants who were not already Cruz supporters. He told them to put aside national concerns—he didn't want to hear about Obamacare and immigration—and instead tell him about the concerns that were unique to their communities. Those brainstorming sessions generated a master list of 77 local issues for Iowans. Some had a national tint, such as defending law enforcement against post-Ferguson critics. Others, however, seemed too parochial for even a congressional candidate's attention, like the repeal of the state fireworks law or a prospective ban on red-light traffic cameras.
Schultz and Wilson designed an experiment on Facebook to see which issues were most salient among voters. They designed small, business-card-sized display ads about each issue ("Outlaw Traffic Cameras" or "Legalize Fireworks") and placed them in the Facebook feeds of Iowans who identified as Republicans. An "Act Now" button redirected to a landing page without any obvious connection to Cruz—it bore only the name of Wilson's polling firm—where a voter could sign up with an email address for more information. In each state, Wilson took the five issues with the highest click-through rates and added them to the survey calls that fed into his microtargeting models, so he could begin to predict who among likely Iowa caucus-goers was serious about fireworks deregulation. The campaign built parallel models for five national issues it had identified as paramount among its targets, like stopping the Iran nuclear deal and banning human embryo sales.
A campaign focused on granular issues was somewhat at odds with the data enterprise that Wilson had inherited when he joined Cruz. Even before there was a Cruz for President organization, it had committed to employ Cambridge Analytica, a London-based outfit reportedly owned by the family of hedge-fund investor Robert Mercer, the country's single-largest political donor and a longtime Cruz backer.
Cambridge Analytica had set out to profile every American voter along each of the five dominant personality factors: openness, conscientiousness, extraversion, agreeableness, and neuroticism. The project was ambitious and extravagant, conceived by British political operatives intent on breaking into the world's most lucrative electioneering marketplace, but also completely opaque and not self-evidently practical for application in U.S. elections.
With his candidate still jostling for marginal advantage against other candidates competing in what his polling called evangelical and tea party lanes, Wilson did see the benefit of some psychological profiling. Yet the 32 different personality types into which Cambridge Analytica segregated voters would be unmanageable if layered onto other divisions in the electorate. Wilson pushed the company to simplify its framework by pushing voters into just five clusters, including Timid Traditionalist, Relaxed Leader, and Temperamental. At the same time, he deployed the two full-time analysts that Cambridge had embedded in Cruz's headquarters to work on building statistical models more directly relevant to political attributes. "They are very smart data scientists, so let's take advantage of where they're good," says Wilson. "It's been a very solid, collaborative relationship."
More than 300,000 Iowans were potential targets, having participated previously in at least one Republican primary, though Wilson spent 2015 expecting fewer than half that number to actually attend the caucus in February. Based on that turnout, Wilson had set a vote goal of 39,585, a number he expected to reach by both persuading likely caucus-goers and mobilizing new ones predicted to support Cruz. When he took those different behavioral buckets, split them by issue preference, and then again by personality groups, Wilson ended up with more than 150 segments in Iowa alone.
When he had done a more primitive targeting project for Texas Governor Greg Abbottt's campaign in 2014, Wilson had distributed a potential voting population of five million across eight clusters."We're totally testing the limits of everything, from overall addressable audience to niche targeting and niche creative," says Michael Beach, a co-founder of Targeted Victory, the digital-advertising agency that had collaborated with Wilson on Abbott's race and later working for Cruz. Now the firm was expected to manage boutique campaigns for each segment, which eventually had to be numbered because no one could keep track of them otherwise.  
Many had barely a few hundred potential caucusgoers in them, far too few to justify paid communications efforts. Most online ad networks require at least 10,000 targets for a buy; Cruz's data department made a determination that a flight of direct mail was inefficient with fewer then 2,500 recipients. Schultz sought any opportunity to lump together likeminded segments across states until they became large enough to justify such ad campaigns.
When there was no way that a segment could be rolled up into a larger universe, as was the case with the sixty Iowans who were expected to make a priority of fireworks reform, Cruz's volunteers would see the message reflected in the scripts they read from phone banks, adjusted to the expected profile of the listener. A Stoic Traditionalist would hear that "an arbitrary ban of this kind is infringing on liberty," as a messaging plan prepared by Cambridge Analytica put it, while Relaxed Leaders are "likely to enjoy parties and community celebrations, such as the 4th of July, and thus a fun-killing measure of this kind is unlikely to sit well with them."
Late last week, social-media director Josh Perry sent Wilson a post by a Twitter user who identifies himself as Scott Mathes saying, "I will caucus for the candidate who supports legalized fireworks in the state of Iowa." Perry didn't append any context in the email, and Wilson didn't require it, "since everyone makes fun of me for these narrow models." Nonetheless, Perry had made sure to reply to Mathes, with a picture of Cruz's "Legalize Fireworks in Iowa" and a link to a site where he could find his caucus location. If everything worked correctly, doing so would allow Mathes to flag his record in Cruz's database, and one of Cruz's volunteers would call not long thereafter to confirm his identity as a supporter.
When Roe and Wilson began setting vote goals for the early states, Trump was not even a candidate. As Trump came to dominate the race, his apparent success in expanding the potential electorate nudged Wilson's turnout numbers up, from a low of around 120,000 to 135,338, where it would settle on caucus day. Pegging the ultimate effect Trump would have on participation was impossible. Wilson had simulated the outcome at various levels of turnout, but there was little to go on in deciding which scenario was most likely to ultimately materialize. (With good targeting, the voters about whom a campaign should know least are those whom an opponent is working to mobilize.)
When it came to such matters, Trump was uncommonly discreet about what his team would do to get out the vote. Perpetually "braggadocious," as he liked to put it, about his standing in the race—notably through the size of his crowds and place in the polls—Trump's usually boastful staff worked to keep secret nearly every possible detail about his field organization, and any possible use of data for targeting. Since spring, Cruz's communications team made a decision to be uncommonly public about such mechanics, even the Cambridge Analytica "psychographic" profiling that could easily come off as creepy.
"The old rule was 'Don't talk about strategy—don't talk about process,' it was drilled into your head," says spokesman Rick Tyler. "These people are used to strategy stories; they're a lot more sophisticated," he said of caucus-goers. "Now they say 'tell me how you're going to win'—asking how you can win Iowa and how you can go beyond that and win the nomination. We're one of the campaigns that can show that organizational structure."
A few hours before the caucuses began, Wilson sat in the hotel lobby and looked at his final projections and all the different ways Cruz could exceed his vote goal of 35,178. As of that day, 39,541 Iowans had directly confirmed their intention to caucus for Cruz, with nearly 4,000 of them doing so over the web site. At the same time, the campaign had 29,830 turnout targets, infrequent voters whom statistical models predicted were likely to support Cruz if they did end up choosing to caucus. It was a slice of that group deemed the least likely to turn out—with less than one-in-four odds of doing so—who received a controversial get-out-the-vote mailer that essentially shamed voters into turning out in the closing weekend of the race. Rubio, Trump, and Iowa's secretary of state slammed the move as "not in keeping in the spirit of the Iowa Caucuses."  
About three thousand of Cruz's turnout targets were selected to receive the mail, an aggressive version of a common technique refined through dozens, possibly hundreds, of different social-science experiments confirming that the "social pressure" of shaming non-voters can in fact serve to motivate them. The "Voting Violation" design evoked an official government document, and the inclusion of neighbors' supposed voting records had been shown to be far more potent than merely letting voters know their own records were public. Cruz's campaign had to send the mail out under its own name—as opposed to that of a super-PAC or other outside group, as is preferred with such tactics liable to incite blowback—because it was the one with the most current list of the people Cruz needed to mobilize. (Some other campaigns, notably John Kasich's, have effectively outsourced all their highly targeted voter contact to allied super-PACs.)
Cruz advisers anticipated the cynical media response, but accepted the risk. Recipients were highly unlikely to caucus in the first place, but if nudged Wilson was confident they would go for his candidate; the statistical models had them all more than 85-percent likely to back Cruz. The odds that an infrequent voter would respond by attending what was probably his or her first caucus and then attempt to spite Cruz for his mailer by supporting one of his rivals seemed unlikely. Like most of Cruz's methods, it was what a campaign transparent about its tactics—and unafraid to be seen trying to win at any cost—would choose to do. 
Before it's here, it's on the Bloomberg Terminal.
LEARN MORE