GE Claims Rival Pratt's New Engine Ideas Are 30 Years Old
by and
Patent dispute over geared turbofan is latest in competition

Petitions against Pratt filed with government's `death squad'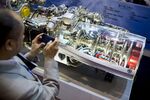 The war between General Electric Co. and United Technologies Corp. over the global jet-engine market has a new battlefront: the U.S. patent office.
GE claims that turbine technology now used by Pratt & Whitney, the engine division of United Technologies, is rooted in ideas dating back to the 1970s, according to Jan. 29 petitions filed with the U.S. Patent and Trademark Office. GE is seeking to overturn five patents owned by United Technologies and Pratt, as well as one owned by Rolls-Royce Holdings Plc.
"GE cannot allow any engine-maker to patent decades-old concepts, or broad technology concepts which have been long well-understood and known," Rick Kennedy, a spokesman for GE's aviation unit, said in an e-mailed statement.
The dispute escalates a long-simmering fight as the engine giants look to boost share in a rapidly expanding market for global air travel. GE, the world's largest jet-engine maker, and Pratt have amassed substantial backlogs as carriers overhaul their fleets with new and more-efficient models.
GE is challenging technology at the heart of Pratt's newest engine, a so-called geared turbofan whose development required an investment of about $10 billion. The engine, which uses a gearbox to improve fuel efficiency, entered service last month powering narrow-body jets that are the workhorses of the global air fleet. A forthcoming engine from CFM International, a joint venture of GE and France's Safran SA, will compete with the geared turbofan to power Airbus Group SE's A320neo.
GE fell 1.4 percent to $28.24 at the close in New York. United Technologies declined 2.4 percent to $85.42.

GE Claims
In each of the challenges, GE claims its competitors' patents don't cover new ideas and never should have been issued. The company is asking the patent office to conduct a hearing and cancel the patents.
A representative for Pratt declined to comment, as did a spokesman for Rolls-Royce, which competes with GE on wide-body jet engines.
None of the patents is involved in lawsuits between the companies, according to GE's petitions. Kennedy said the challenges are at least in part preemptive, since their protections can last for 20 years. "GE Aviation is taking early steps to clear potential obstacles for future aircraft and engine concepts that might emerge in the decades ahead," he said.
The disputed patents were all issued since 2011 and relate to the way gas-turbine engines are built. In several instances, GE said the technology is little different than what the company developed with NASA in the 1970s.
NASA Development
One patent issued in 2013 "claims an allegedly novel material for forming a typical fan casing of a jet engine," GE said in a petition. "The General Electric Advanced Engineering and Technology Program Department, under contract with the National Aeronautics and Space Administration, used composite materials to construct a fan casing thirty-six years ago, in 1979."
Another patent issued in 2013 was for a geared turbofan engine with an architecture that's been around for "over thirty years" and was even described in a Pratt & Whitney publication in 1998, according to GE.
The competition has led to heated rhetoric in recent years. GE Aviation leaders have questioned the reliability of Pratt's new model, while that company's executives have said their engine is lower-risk and called GE's comments "garbage."
GE challenged Pratt on a new front in November with the announcement that it would develop a family of engines for turboprop planes, a niche dominated by Pratt's Canadian operations.
GE Aviation generated about $25 billion in revenue last year, while Pratt had sales of $14 billion.
Faster Alternative
The patent-challenge procedures were developed by Congress as part of a 2011 law, designed to be a faster and cheaper alternative to litigation. While most petitions filed with the agency do have mirror lawsuits, some companies have used the process to affect licensing talks.
A board within the patent office will review the petitions to determine if GE has a chance of winning its arguments. If that hurdle can be cleared, the agency will conduct a hearing and make a decision within a year.
The Patent Trial and Appeal Board, where the petitions were filed, has become known as a "death squad" for patents because of the high rate at which it sides with challengers. It's easier to invalidate a patent at the agency than in district court because different standards are used.
Before it's here, it's on the Bloomberg Terminal.
LEARN MORE