Fab Co-Founder's Second Attempt at E-Commerce Is Finished
After launching Bezar last spring, the design-focused online retailer reached an "inflection point," said founder Bradford Shellhammer.
by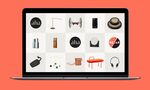 Bezar, the follow up project from Fab co-founder Bradford Shellhammer, is being acquired for an undisclosed amount by the online retailer AhaLife, Shellhammer told Bloomberg. 
The design-focused online retailer was reportedly running out of funding and had reached an "inflection point," Shellhammer said. Bezar raised $2.25 million at its launch last spring and had considered taking on more funding or teaming with a brand, but it ultimately decided to sell to AhaLife. "Any entrepreneur is looking for ways to keep their vision and dream alive," he said. 
Shellhammer launched Bezar with the goal of getting right what Fab had gotten wrong. Fab, once valued at almost a billion dollars—at a time when few companies had that kind of hype—failed hard, fast. It sold for a reported $15 million, laying off hundreds of employees as it faded away.
Bezar was a much smaller, humbler enterprise with a similar idea and business model. The site curated products from designers and hosted digital "pop-up" shops, with short-run flash sales. Sellers could then set up permanent shops. Flash sales, however, have proven hard to monetize. Gilt, another flash sales darling, just sold for a reported $250 million, having once enjoyed a $1 billion valuation, too.
The company's 10 staff members and hundreds of thousands of e-mail subscribers will be folded into AhaLife and will continue under the AhaLife brand. Shellhammer will remain as an adviser, for now. 
"It's definitely AhaLife, and Bezar will be going away," Shellhammer said. 

AhaLife launched in 2011 and offers a curated online marketplace for an upscale audience.
"Running out of cash is never a good thing because it suggests you were over-optimistic about sales projections or of your ability to raise capital," said Sucharita Mulpuru-Kodali, an analyst at Forrester. "For all the hype of talking about learning from the mistakes of Fab, sounds like he didn't really."
—With Kim Bhasin.
Before it's here, it's on the Bloomberg Terminal.
LEARN MORE