Einhorn Under Pressure as Greenlight Shrinks by $3.2 Billion
by
Investors pull 5% of firm assets as main fund falls 20.4%

Einhorn vows he will stay the course with value strategy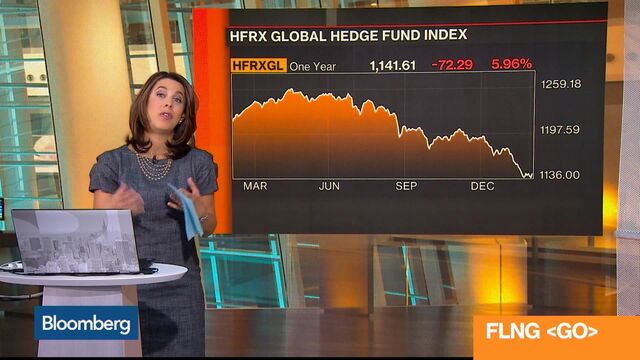 Investors in Greenlight Capital showed the limits of their faith in the prowess of David Einhorn after his hedge fund's worst underperformance ever.
The firm lost $3.2 billion in assets last year as its main fund plunged 20.4 percent, while the stock market rose 1.4 percent including reinvested dividends. Even as Einhorn managed to avoid a large-scale exodus of clients, investors pulled at least $600 million from the firm, or 5 percent of assets, according to calculations based on the latest available data.

The numbers highlight the pressure Einhorn faces to prove he can navigate a turnaround. Other firms, such as Fortress Investment Group and Bain Capital, had to shutter hedge funds after similar investment losses. Greenlight gained 1.4 percent in January as global stock markets slumped, a glimmer of hope for the fund's investors.
"His investors will give him some additional time to feel out whether or not his losses are recoverable," said Brian Shapiro, founder of Simplify LLC, which collects and analyzes hedge fund returns. "The question is what happens in the next two quarters."
Jonathan Gasthalter, a spokesman for Greenlight with Sard Verbinnen & Co., declined to comment.

Fortress liquidated its macro business, which oversaw $2.3 billion as of June, after Michael Novogratz's flagship fund fell by more than 17 percent in the first three quarters of 2015. Bain said in October that it was shutting its Absolute Return Capital fund, which had about $2.2 billion as of Aug. 1. The fund had declined 13 percent in the first seven months of 2015, setting up its fourth straight losing year.
Greenlight has several advantages. The hedge fund has accumulated roughly 800 investors since it started in 1996, and they have enjoyed average annual returns of 16.5 percent, according to the firm's presentation to investors on Jan. 19. Some 30 percent of the firm's outside assets are locked up in contracts or vehicles that made withdrawal unlikely or impossible at the end of 2015. If clients were to pull out, getting back in is difficult: The fund rarely raises new money.
Greenlight's Redemptions
Most of the drop in Greenlight's assets -- from $11.8 billion at the start of 2015 to $8.6 billion this year -- is commensurate with declines in performance, according to Bloomberg calculations based on fund returns disclosed in the presentation. At least $600 million of the drop can't be explained by performance and is probably the result of redemptions, using conservative assumptions. The actual number may be higher.
At the presentation at the American Museum of Natural History in New York, Einhorn described withdrawals as minimal, according to a person who attended.
Greenlight aims to earn 15 percentage points of alpha, or returns exceeding benchmarks, plus 30 percent of the gains in the Standard & Poor's 500 Index each year. The fund didn't come close to reaching that annual goal last year as three of its biggest long bets -- Consol Energy Inc., Micron Technology Inc. and SunEdison Inc. -- dropped 60 percent or more last year.
Staying the Course
Einhorn has publicly admitted to making misjudgments. He called last year's losses "ordinary risks that didn't work out well," according to the presentation. He told investors that the firm will not make any significant changes, according to the person at the meeting.
The large number of individual investors in Einhorn's main fund adds to its stability. It started with $900,000 in 1996, a time when high net-worth individuals rather than institutional investors such as pensions were the most prominent backers of hedge funds. Even today, after years of gains, each of Greenlight's approximately 800 clients -- excluding separate vehicles that invest in the firm -- has an average of less than $10 million invested in the fund, according to an analysis of presentation data.
That's a stark contrast with newer hedge funds, which often rely on investments of $100 million or more, making them more vulnerable to the fickle mood of a single client. At Claren Road Asset Management, which started in 2006, withdrawal requests from a few large pensions like Illinois Teachers' Retirement System and Employees Retirement System of Texas have helped cut assets to $1.25 billion at the start of this year from $8.5 billion in September 2014.
When it raised money more recently, Greenlight ensured it could follow its strategy without having to worry about quarterly or monthly returns. More than $1 billion in money raised from new and old investors in late 2014 is subject to a 25-month lock-up and a penalty of 5 percent if clients withdraw cash in fewer than three years.
Captive Money
In addition, the firm manages a portfolio, worth $1.1 billion at the end of December, for its Cayman Islands-based Greenlight Capital Re Ltd. The reinsurer, which went public in 2007 to offer retail investors tax-friendly access to the hedge fund, is under contract to be invested in the Greenlight fund and pay fees to the manager until at least the end of 2016, according to a filing. The firm also oversees a $882 million fund of hedge funds, which invests 24 percent of its assets in the main Greenlight strategy.
Einhorn's investors do get a break on fees in down years. They pay 10 percent of performance gains to Greenlight, rather than 20 percent, until the fund recoups its drop plus 150 percent of the value of those losses. After losing money in 2008, Greenlight didn't return to earning normal fees until early 2011, according to the presentation.
At the January meeting, Greenlight told investors it sees opportunities in distressed debt and in value stocks it thinks are cheap. It's looking to short equipment providers and financials that it believes will suffer as the commodity super cycle ends, even as it calls Consol Energy one of its long bets for 2016.
"There is good reason to think the environment will change," the firm said in the presentation.
Before it's here, it's on the Bloomberg Terminal.
LEARN MORE