Cruz Withstands Trump Attacks to Win Iowa
Republicans looking for a candidate who could stop Trump found one on Monday evening.
By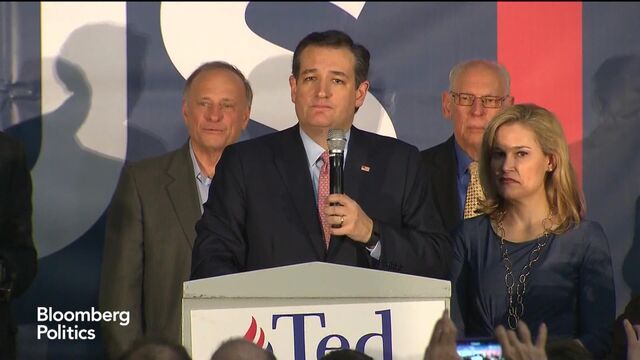 Republicans looking for a candidate who could stop Donald Trump found one on Monday evening, as U.S. Senator Ted Cruz emerged from a brutal campaign with a victory in the first-in-the-nation caucuses. And they may have found a second in U.S. Senator Marco Rubio, who placed a strong third, right behind the brash billionaire.
In the final stretch, Trump hammered Cruz for being born in Canada and suggested that makes him him ineligible to be president. He pounded Cruz for not fully disclosing up to $1 million in loans during his 2012 Senate run. Iowa's Republican Governor Terry Branstad flatly called for Cruz to be defeated. A number of prominent Republicans on the national stage said they'd prefer Trump over Cruz. Sarah Palin, who has sway with Cruz's tea party base, endorsed Trump. Rick Santorum and Mike Huckabee bashed Cruz as a phony in a hapless effort to recreate the magic that won them the 2012 and 2008 Iowa caucuses, respectively.
"They've tried every trick in the book to stop him," said Amanda Carpenter, a former communications director in Cruz's Senate office. "It's a testament to his personal tenacity and the campaign's winning strategy. They have faced a double-ended attack from Donald Trump and the Republican establishment."
Members of the Republican establishment greeted Cruz's victory with notes of triumphalism, if not a complete embrace of Cruz himself.
"It appears Trump's ceiling is where we always thought it was," said Rory Cooper, a former spokesman for House Republican leadership and fierce critic of Trump.
Doug Heye, a former spokesman for the Republican National Committee, added that the "Cruz win shows that organization is still the king in Iowa," he said.
Kevin Madden, a spokesman and adviser to Mitt Romney's 2012 presidential campaign, credited Cruz's "formidable organization" but also had a few choice words for the candidate in second place.
"Trump now has a loser brand hanging around his neck," he said.
First to the podium this evening was Rubio, who sounded triumphant and talked up his prospects. So did Madden.
"Rubio is the campaign on the rise possessing the greatest potential to consolidate that lane of the primary electorate and emerge as the Trump-Cruz alternative," he said.
Cruz's victory in the Iowa caucuses on Monday night was critical to holding off the New Yorker's juggernaut, but it was just the beginning of a long slog in a nomination battle. Trump leads big nationally and in New Hampshire, the next nominating contest.
Trump lost in a state chockablock with evangelical voters and tea party Republicans, far friendlier ground for Cruz. Meanwhile, the Texas senator poured immense resources and effort into the Hawkeye State, touring all 99 counties during his campaign. That's a tough feat to replicate elsewhere.

The question that now faces Republican elites is whether Cruz is an acceptable alternative to Trump. For many of them, the answer has been no, and they're holding out for a different candidate, perhaps Rubio.
"If people like Bob Dole, Charlie Black and others running around telling the media they'll take Trump over Cruz—if they really do that that's the end of the Republican Party," Carpenter said. "If it is a Cruz-Trump race, Cruz should win by a landslide, unless these establishment guys are just intent on political suicide. Which they may be. If these guys only truly care about power than Trump is their guy."
The size of the field—12 candidates—is a gift to Trump. He is of the more divisive figures in the race, with high unfavorable ratings and a deep base of committed supporters. Other candidates are essentially fighting to be the anti-Trump and turn the contest into a one-on-one race with him, expecting to win that. The longer they fight, the more time Trump has to pull away.
Expectations now rise for Rubio in the Feb. 9 New Hampshire primary, where he must prove he can take on Cruz and Trump. Other candidates like Jeb Bush, John Kasich and Chris Christie have put their chips in that state. No Republican nominee has lost both Iowa and New Hampshire.
A mid-January poll by NBC and the Wall Street Journal found that Trump wins a three-way race with 40 percent, followed by Cruz at 31 percent and Rubio at 26 percent. In a two-way race, Trump trailed to Cruz 43 to 51 percent, and led Rubio 52 to 45 percent.
Carpenter posited that establishment candidates like Kasich, Christie, Bush and Rubio are "trying to move the goalposts" by talking up prospects after the first two states, "because they don't see a strong finish in Iowa or New Hampshire. So they're trying to drag things out longer."
"A big field like this helps Trump and probably hurts Rubio the most," she said.