China Stocks Rally as Central Bank Injects Cash Before Holidays
by
PBOC injects $15 billion via reverse repo operation Tuesday

Chinese Shares in Hong Kong decline after offshore yuan fell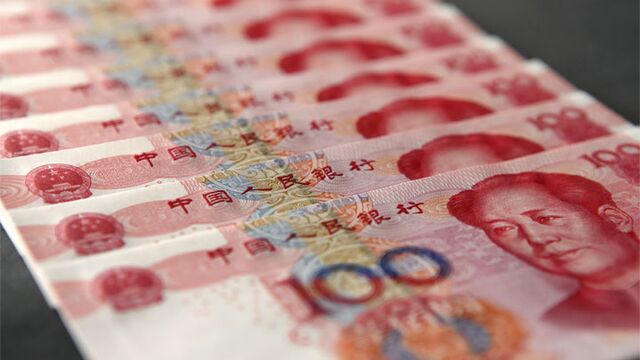 Chinese stocks climbed in light trading, led by technology and industrial companies, as the central bank injected cash into the financial system before markets close for holidays next week.
The Shanghai Composite Index rose 2.3 percent to 2,749.57 at the close, paring its decline this year to 22 percent. A gauge of technology companies rallied to a one-week high, while Guangzhou Goaland Energy Conservation Tech Co. jumped by the daily 44 percent limit on its first day of trading. Volume on the benchmark gauge was 24 percent below the 30-day average for this time of day.
The People's Bank of China pumped 100 billion yuan ($15 billion) into the banking system using reverse repurchase agreements on Tuesday, adding to last month's injection of about 2 trillion yuan, as demand for cash rose in the run up to the lunar new year holidays. Chinese shares are the world's worst performers this year amid concern the economic slowdown and a weakening currency will accelerate record capital outflows.
"The PBOC's injection is lending some support to the market," said Ronald Wan, chief executive at Partners Capital International in Hong Kong. "But I rather would remain cautious as the rally isn't likely to be long lived. People will want to sell equities for cash before the holidays and volatility will come back."
The Hang Seng China Enterprises Index slid 1.1 percent in Hong Kong, extending its loss this year to 16.6 percent. PetroChina Co. led a drop in energy companies after crude tumbled 6 percent overnight in New York, while China Minsheng Banking Corp. paced declines by lenders. The yuan in Hong Kong was little changed versus the dollar after sliding 0.4 percent overnight after the operator of China's foreign exchange market said the yuan will be able to trade more flexibly against a currency basket.

"Hong Kong is more driven by moves in overseas markets which showed lackluster activities overnight, while the mainland markets are more policy driven," said William Wong, head of sales trading at Shenwan Hongyuan Group Co. in Hong Kong. "The late decline in offshore yuan is having some impact on sentiment in Hong Kong given concerns over capital outflows. Trading will remain light ahead of the holidays next week."
The Hang Seng Index dropped 0.8 percent, while the CSI 300 Index added 2.1 percent.
PetroChina fell 0.9 percent in Hong Kong as crude prices fell for a second day, erasing last week's gain. China Oilfield Services Co., and Shenhua Energy Co. all lost at least 1.2 percent. China Pacific Insurance Co. and Minsheng Banking Co. shed at least 1.7 percent.
New IPOs
The six Chinese companies that took bids from IPO investors over the past two weeks attracted orders worth 7.1 trillion yuan ($1.1 trillion), more than the value of Australia's entire equity market. The offerings -- the first under new rules that allow investors to bid without making upfront deposits -- were oversubscribed by more than 1,800 times on average. Goaland, the first to trade under the new IPO rules, rose 22.35 yuan versus the IPO price of 15.52 yuan in Shenzhen.
All industry groups rose on the CSI 300 index as gauges of technology and industrial companies rallied at least 2.7 percent. Neusoft Corp. soared 9.1 percent. Hundsun Technologies Inc. and East Money Information Co. added more than 4 percent, while China First Heavy Industries Co. and CITIC Heavy Industries Co. climbed at least 4.5 percent.
"We've heard about possible stimulus package changes in the past couple of months," Evan Lucas, a strategist at IG Asia Pte. in Melbourne. "That's all speculation and there isn't any news out on streets. They really get behind in terms of what's going on. The moves can easily reverse this afternoon."
Before it's here, it's on the Bloomberg Terminal.
LEARN MORE