China Said to Warn Bank Chiefs About Jobs If Risks Increase
Bloomberg News
Follows concerns about rising bad loans, recent fraud cases

Regulator said to focus on bad-loan coverage, capital ratios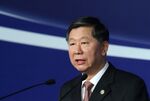 China has warned the nation's top banking executives that they could lose their jobs if they fail to keep risks under control, according to people familiar with the situation.
Shang Fulin, chairman of the China Banking Regulatory Commission, told an internal meeting last month that banks would be forced to restructure, inject new capital or change their senior management if key risk indicators fall outside "reasonable ranges," the people said, requesting anonymity because the contents of the speech weren't made public.
The indicators include bad-loan coverage and capital adequacy ratios, Shang told the meeting, the people said. The CBRC had no immediate comment.
The warning by China's top banking regulator follows concerns about rising bad-loan levels among the nation's lenders, and recent fraud cases which have shaken investor confidence.
An alleged fraud of almost 1 billion yuan ($152 million) was discovered late last year at China Citic Bank Corp., where an employee colluded to fake documentation that companies typically use to get quick funds, other people familiar with the matter said last week. Agricultural Bank of China Ltd. last month announced a 3.9 billion yuan "risk incident" that local media reported was tied to a bills-financing fraud by employees.
In a separate warning about rising financial-sector risks, China's central bank has told lenders it will require greater control over the amount of wealth management product funds they give to brokerages and other financial institutions to manage, according to people familiar with the matter.
Wealth Management
The People's Bank of China held a meeting with large commercial banks Monday, those people said, asking not to be identified because the matter is private. It told lenders it will also impose more limits on the amount of proprietary funds managed by other institutions, and that it will tighten control of leverage taken on when buying bonds, they said. The PBOC didn't respond immediately to a faxed inquiry.
"This is clearly aimed at controlling risks in the banking sector," said He Xuanlai, Singapore-based credit analyst at Commerzbank AG. "It's not a standalone move; it's actually in line with the tightening in bill financing, following recent media reports of fraud cases."
Chinese banks have been scaling up their wealth-management businesses as they vie for deposits. Standard & Poor's estimates the banking sector's outstanding off-balance-sheet wealth-management products grew by 35 percent to 13.6 trillion yuan in 2015, it said in a research note dated Jan. 28. That compares with Chinese financial institutions' total outstanding loans of 94 trillion yuan as of end-2015.
— With assistance by Heng Xie, Lianting Tu, Jun Luo, Helen Sun, Aipeng Soo, and Steven Yang
Before it's here, it's on the Bloomberg Terminal.
LEARN MORE