BP CEO Says Debt Can Rise to Sustain Dividend During Oil Slump
by and
CEO Bob Dudley says he isn't "nervous" about rising leverage

BP suggests it could reduce spending if oil prices remain low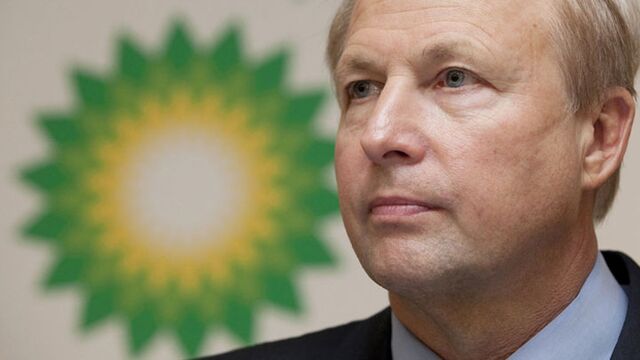 BP Plc is happy to let its debt rise this year to maintain dividends during the slump in oil prices, Chief Executive Officer Bob Dudley said in an interview.
Speaking after disclosing a record annual loss, Dudley said that a leverage ratio as high as 25 percent, compared with 21.6 percent at the end of last year, wouldn't make him "nervous."

"We'll be flexible around the gearing levels, we'll see what oil prices do," he said in an interview with Bloomberg Television on Tuesday from BP's headquarters in central London.
Dudley is walking a fine line, trying to reassure equity investors that payouts aren't in danger while avoiding a significant credit rating downgrade that would spook bondholders and increase financial costs. With prices below $31 a barrel, earnings dropping more than expected and waning margins in the company's refining business, that task is becoming more difficult.

Standard & Poor's on Monday put BP on negative outlook, suggesting it may cut BP's rating this month.
"We now believe many major oil and gas companies' current and prospective core debt coverage metrics are likely to remain below our rating guidelines for two or three years as the industry adjusts to lower prices," S&P said.
BP's shares fell as much as 8.5 percent in London to 335.85 pence in London, the biggest drop since August.
Bridge Gap
BP reported net debt of $27.2 billion at the end of last year, up from $22.6 billion in 2014, as the company issued bonds to bridge a gap between cash flow from operations and asset sales on one side, and capital spending and dividends on the other. That pushed its net debt ratio -- a measure of leverage -- to 21.6 percent, up from 16.7 percent.
BP in October abandoned a gearing band of between 10 percent and 20 percent it put in place in 2010, saying that it would be flexible around a ratio of 20 percent.
"Before the accident in the U.S. Gulf of Mexico we always ran net debt gearing between 20 and 30 percent," Dudley said. "We are drifting back up to where we were historically".
Cut Spending
But Dudley signaled there were limits and said the company may cut spending further if low energy prices continue. Europe's third-largest oil group told investors it planned to spend in new projects between $17 billion and $19 billion this year. Dudley said spending would come "at the low end" of that bracket.
"There's scope for us to reduce capital right now," he said. "We've got big projects going on. We'll make sure we don't threaten the growth of the company but we'll manage that capital really tightly this year.'
The objective is to balance BP's books next year below $60 a barrel, rather than at that level, the company's previous target. Dudley painted a gloomy outlook for oil prices in the short-term, saying the first half of the year will be "tough and choppy," but said he expected a recovery in the second half as supply and demand re-align.
"We've been saying for a while lower for longer, but not lower forever," he said.
Before it's here, it's on the Bloomberg Terminal.
LEARN MORE