Style Guide
14 Valentine's Day Gifts She'll Love (That Aren't Chocolate or Flowers)
These gifts will never go out of style.
By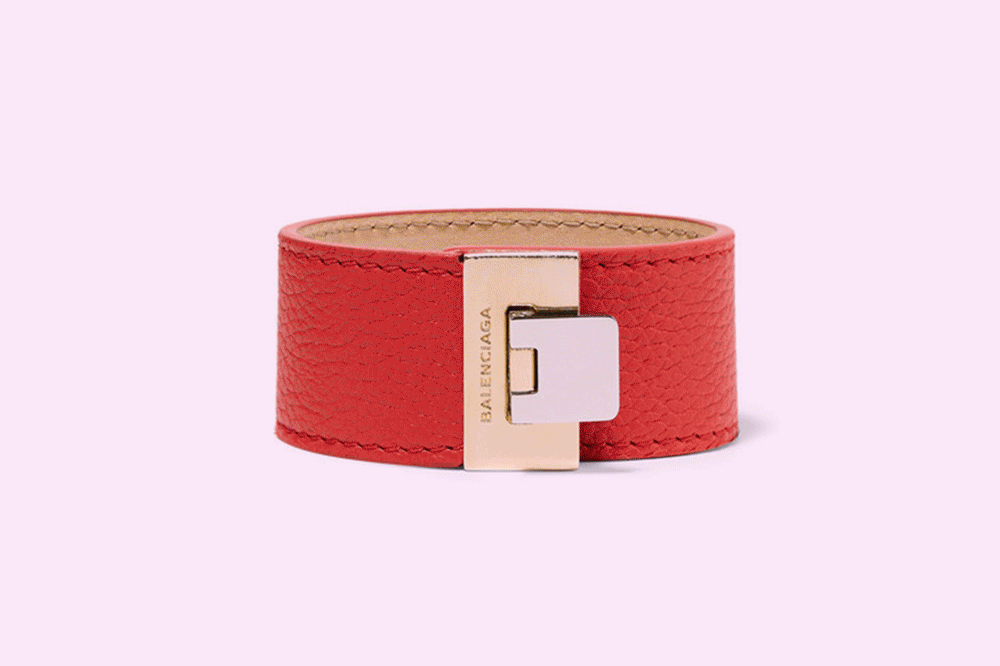 I get it. It seems as if you just conquered the gift-giving season, and here it is again: Valentine's Day—and with it, more gift-giving decisions that must be made for the missus or the lady friend in your life.
I'm here to tell you that we women do not need, or even want, cheesy lip-shaped tchotchkes, a bundle of carnations, or a stale box of drugstore chocolates. Shocking, right? So here's a tip: It's time to trade in that plush teddy bear attached to a giant mylar balloon for something more personalized. And permanent.  
With that in mind, I've rounded up 14 stylish, no-fail gifts, at a mix of price points, to suit just about every taste. And here is my most important piece of advice: Don't forget the card. (Herein, it really is the thought that counts, but don't get a cheesy Hallmark missive. Write something simple and sweet, and buy an elegant, special card at a place such as Paper Source, Buy Olympia or Etsy.) 

1. A Useful Accessory
We might be modern iPhone 6s-toting women, but we can still appreciate the delicate beauty (and purpose) of a timeless wristwatch such as this gold-plated, lizard-strapped one by Swedish minimalists Larsson & Jennings ($705, net-a-porter.com).
2. Something to Slip On 
Never underestimate how much we like to be wrapped up in luxury. This versatile, cotton Turkish robe by Cuyana ($95, cuyana.com) will help her escape at home, or serve as the perfect seaside coverup. 
3. A Dainty, Everyday Bauble
Sometimes simple and sweet is best. Stud earrings, such as this mismatched pair by Finn ($595, finnjewelry.com), are something we can wear every day to remind us how loved we are. Tip: If you're gonna go with a heart motif, understated—like this—is best.
4. A Beauty Refresher
At-home beauty maintenance is just par for the course of womanhood. Help us spruce up our routines with a special treatment or product such as this premium haircare set by Balmain Paris Hair Couture ($209, net-a-porter.com)—which features a ultra-glam gold brush and hair-perfume. How decadent!
5. A Floral Scent
A scent that's inspired by Marie Antoinette? Sign us up. Maison Francis Kurkdjian À la rose eau de parfum ($245, neimanmarcus.com) is femininity in a bottle, alluring and whimsical, with just the right amount of the powdery, girly petal that inspired its name. 
 6. A Keepsake
Pique her inner romantic with a collection of beloved literature—such as the stylish Jane Austen Penguin set ($135, juniperbooks.com). She'll appreciate the fine decorative bindings almost as much as she'll appreciate having Mr. Darcy as part of her home library, forever. 
7. The Eye-Catching Frames
Sure, we might have a drawer full of sunglasses, but we can always find room for more. Especially a fun, sassy pair like these Ruby-framed shades by Oliver Peoples ($475, neimanmarcus.com)—which will make the perfect bonus piece to complement her minimal, working-girl wardrobe.
8. A Charming Home Addition 
Something adorable and useful—such as this 'Darling' trinket tray by Rosanna ($14, rosannainc.com)—is always much-appreciated.
9. A Pair of Strappy Black Heels
Every lady needs a pair of just right (not too high or low) black, strappy heels, such as this pair by Giuseppe Zanotti ($750, bergdorfgoodman.com). The right pair should be equal parts practical (read: She'd wear them to the office with a blazer and slacks) and sexy (for date night, with you).
10. A Statement Piece
Nothing says "Instagram-Me" as much as a bold piece of statement jewelry, like this cuff by Balenciaga ($325, net-a-porter.com). It's special but not too showy. We like that. 

11. An Exotic Purse
Dazzle her with something special and unusual, a not-your-everyday kind of handbag—such as this handmade, animal-skin clutch by Los Angeles-based accessories designer Elisabeth Weinstock ($990, elisabethweinstock). Bonus: If you're thinking of buying an arm piece for your lady and are clueless where to begin, this article might help. 
12. A Good Read
A book that really speaks to her can be such a cherished pleasure. With this one—Love Style Life ($30, shopbop.com) by Garance Doré—the name really says it all. It's an examination and celebration of a trifecta of our favorite topics. That sounds utterly enjoyable and lovely.
13. Something to Slip Off
We'll take our intimates pink or red, but nothing makes a woman feel sexier than black lingerie. This set by Kiki de Montparnasse (lace bra, $295; briefs, $140; net-a-porter.com) is sexed-up enough for special occasions, but it's also classic enough that we might just surprise you by wearing it on a Tuesday. No special occasion necessary. 
14. A Little Indulgence
At the end of the day, all a lady really wants is to be snuggled in cashmere, with a bottle of Veuve Clicquot and the perfect candle burning. This set by Snowe ($285, snowehome.com) will help make that dream a reality. You can join, too, if you're up for a binge session of Outlander. 
Nic Screws is the style director at Bloomberg. Follow her on Instagram and Twitter or e-mail her any of your fashion concerns or questions at nscrews@bloomberg.net.
Before it's here, it's on the Bloomberg Terminal.
LEARN MORE