Mark Carney Could Be Heading for a Feat Not Seen Since 1949
by
May be first governor since Catto never to change rate

BOE forecast to keep rate at 0.5% as pay growth weakens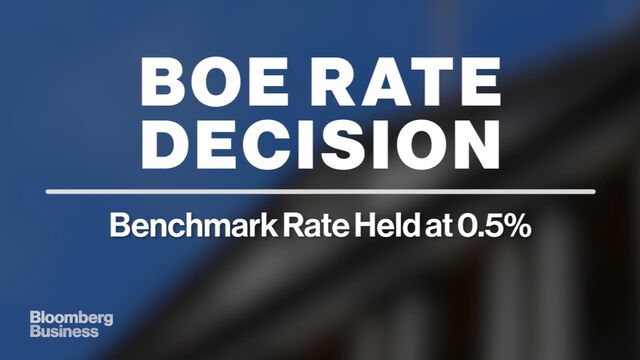 Mark Carney, meet Thomas Catto.
As Bank of England governor from 1944 to 1949, Catto never changed interest rates the entire time he was in office. The way the outlook is shaping up, Carney may be next to hold that distinction.

Bank of Japan negative interest rates and warnings from the Federal Reserve about the global economy reinforce both a sense of caution among central banks and the prospect that U.K. rates aren't moving from 0.5 percent any time soon. Moreover, inflation pressures are so weak that investors have pushed out bets on a full quarter-point increase to the first three months of 2018, shortly before Carney's term is scheduled to end.
"It's not impossible that Carney leaves without raising rates," said Philip Shaw, an economist at Investec Securities in London. "You don't have to go much further than what the market's telling you now to see the end of his term coinciding with no hike, though it's not our central forecast."
Carney has other options to avoid becoming the next Catto -- he hinted in Parliament last week that he may seek to extend his tenure to the full eight years permitted by legislation. When he arrived from the Bank of Canada in July 2013, he said he'd only stay five years.

All economists surveyed by Bloomberg forecast the key rate will stay at 0.5 percent on Thursday, where it's been since March 2009.
As Carney prepares to present the Monetary Policy Committee's new forecasts alongside the decision, he'll be aware of the sizable shift in Sonia forwards from the start of the year, when investors bet on a quarter-point hike in November 2016. The MPC will probably cut its growth and inflation projections for 2016.
The BOE meets at a time when the rest of the world is turning to easier -- or easier-than-expected -- monetary policy to shore up subdued inflation in the face of external risks. The BOJ has followed European economies by adopting a negative interest rate for the first time last week. Fed funds futures pricing suggests that market participants view it as increasingly unlikely that the U.S. Federal Reserve will raise interest rates in March.
Global and domestic pressures have been stacking up against the BOE. Oil prices dropped 30 percent since it last published projections in November, and the fallout from China's slowdown has roiled global markets. At home, wage data have been particularly disappointing, with growth in basic pay back to its weakest since February. The buildup to the vote on U.K. membership in the European Union is also creating a headwind.
Carney Caution
In a speech last month, Carney said salaries were key to the timing for the first rate increase. Martin Weale, who'd been arguing for rate increases a year ago, said he wouldn't vote to tighten until pay growth improves, though he noted in a Bloomberg interview that the pound's drop is becoming a more important factor.
Sterling's 5 percent drop on a trade-weighted basis in the last three months softens one source of disinflationary pressure. That may encourage Ian McCafferty to keep up the lone push for higher rates he started in August.
Not All Bad
"There's been a dovish wave of sentiment, though the data haven't been all one way," said Simon Wells, an economist at HSBC in London and a former BOE official. "They'll be cautious on Thursday but I don't think they'll necessarily want to rubber stamp the current market expectations."
A U.K. manufacturing index unexpectedly climbed to a three-month high in January, Markit Economics said Monday, while a separate report showed mortgage approvals rose in December. A services industry gauge will be published Wednesday, providing the MPC with further insight into the economy, which picked up momentum at the end of 2015.
Wells forecasts the first BOE increase will come in November this year, while Investec's bet on the fourth quarter matches the median estimate of 32 economists surveyed by Bloomberg.
Sam Tombs, an economist at Pantheon Macroeconomics in London, expects the BOE will lift its medium-term inflation forecasts this week due to falls in sterling and market rates. With investor bets so far out, this creates the risk of a hawkish Inflation Report.
"With the economy struggling for momentum and asset prices recently volatile, he won't want to jolt markets," Tombs said. "But the MPC clearly does not expect to sit on its hands for another eighteen months, as the markets currently anticipate."
Before it's here, it's on the Bloomberg Terminal.
LEARN MORE