Prime Ministers and Regulators Rapped Over UK Charity Collapse
By
Kids Company given millions despite `negligent' management

Prejudice and politics meant official warnings were overruled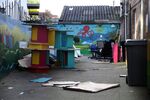 U.K. prime ministers and other senior politicians were so "captivated" by Camila Batmanghelidjh, the charismatic founder of the collapsed charity Kids Company, that normal processes were ditched as she secured 42 million pounds ($60 million) in government funding, according to a report published Monday.
"Negligent financial management" by trustees of the London-based organization, which was intended to support vulnerable children, meant it closed last summer six days after it received a 3 million-pound rescue grant from the government, the House of Commons Public Administration Committee said. Prime Minister David Cameron, who has taken part in a number of events with Batmanghelidjh, defended the effort to keep the charity going at the time.
Officials who warned against giving the additional cash were overruled by ministers Oliver Letwin and Matthew Hancock, even though Letwin said he didn't believe the charity's claims about the number of children it helped. Letwin also told lawmakers on the cross-party panel that the charity's reliance on the government for cash flow "may be a sign of quite cunning financial management."
"Ms. Batmanghelidjh and Kids Company appeared to captivate some of the most senior political figures in the land, by the force of the chief executive's personality as much as by the spin and profile she generated for the charity," the committee said. "As a consequence, objective judgments about Kids Company were set aside. The government's relationship with Kids Company was forged outside the usual decision-making processes of Whitehall departments and there is little doubt that the high-profile support of successive prime ministers for Kids Company had an impact upon decision-making."
The charity wasn't subject to usual reporting processes for recipients of public money and its claims of results achieved for children in its care were not properly scrutinized, the panel said. Grants were given without a competitive process, and after funding for young people was moved to the Cabinet Office from the Department for Education -- because then Education Secretary Michael Gove "was not a big fan" of having youth services in his department -- other charities lost out.
The report said spending at the charity was poorly controlled and young people in its care were given cash, some of which was spent on alcohol and drugs. One received 13,493 pounds in allowances, 4,704 pounds for clothing and 19,788 pounds to pay for housing in 2014 alone, the panel said, citing an investigation into the charity by PricewaterhouseCoopers.
"There appears to have been a catastrophic confluence of factors that have conspired to allow this charity to operate as it did, for as long as it did," the committee chairman, Bernard Jenkin, a member of the governing Conservative Party said in an e-mailed statement. "I fear the repercussions of this episode are far from played out, but one of them must be a radical change in our approach to charity regulation at every level."
Before it's here, it's on the Bloomberg Terminal.
LEARN MORE