Treasury Accused by GOP Staff of Misleading on Debt Limit
By
Treasury withheld contingency planning, Republicans charge

Lew has called prioritizing payments `default by another name'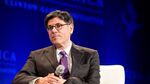 Republican staff on the House Financial Services Committee accused the Obama administration of misleading the public about contingency plans during recent debt-ceiling showdowns and obstructing a subsequent congressional probe into the matter.
Treasury officials including Secretary Jacob J. Lew told Congress the department couldn't prioritize debt payments to keep the government from violating its borrowing limit, even as officials at the Treasury and Federal Reserve Bank of New York were working on scenarios to prioritize expenses, according to a report released Monday by Republican staff on the committee. The 322-page report cites documents received under subpoena.
The documents cited in the report offer a window into internal administration and Fed planning in the event Congress fails to lift the debt ceiling and the extraordinary measures the Treasury takes to stay under it are exhausted.
GOP lawmakers have clashed with the Obama administration in recent years by refusing to raise the government's borrowing authority, raising the prospect of a U.S. default. Lew has called prioritizing payments as "default by another name."
"Rather than assure the American people that the administration would -- or even could -- prioritize principal and interest payments on the government's debt in the event that the debt ceiling is not raised in order to maintain the creditworthiness of the United States, Treasury has chosen instead to issue a series of public statements casting doubt on the administration's ability and willingness to prioritize these payments," the report said.
'Actively Obstructed'
The Treasury withheld its debt-ceiling contingency plans to maximize pressure on Congress to lift the limit, and "appears to have actively obstructed" the committee's investigation by directing New York Fed officials not to answer lawmakers' questions, according to the report.
In a statement released Monday, a Treasury spokesman said the department has been forced to consider a range of options should Congress ever fail to raise the limit. While delaying payments is considered the least harmful option, it would still be default, the spokesman said.
A New York Fed spokeswoman referred to a May 2015 statement citing a March 2015 letter in which the reserve bank's general counsel highlighted the information it provided to the committee, and noted it could only release certain documents with Treasury approval.
The documents indicate a split between the Treasury and the New York Fed over how much information about contingency planning ought to be released.
"Treasury has been very reluctant to provide any information to the private sector regarding its plans," according to a Fed memo from October 2013 cited in the report. The Fed "has strongly encouraged Treasury to reveal its plans in advance to allow the private sector to prepare sufficiently."