politics
The Power of the Super-PAC Wanes as Trump Prepares for Iowa Test
Tim Higgins, Bill Allison and Peter Brusoe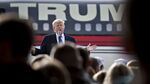 With billionaire Donald Trump sitting firmly atop the Republican field, the willingness of big establishment donors to underwrite his competitors' war chests has fizzled.
About 17 donors gave $1 million or more to groups backing Republican presidential candidates in the last six months of 2015, 60 percent fewer than the number who gave that much in the first half of the year, according to Federal Election Commission filings. And outside groups that can accept unlimited contributions accounted for about 27 percent of Republican fundraising in the second half, down from 78 percent.
Many donors contributed large sums early to create the perception that their candidate was financially viable to go the distance. Now, with the first-in-the-nation caucuses taking place today in Iowa and several other primaries happening in the coming weeks, much of that money isn't being replenished as candidates enter a grueling and expensive phase of the campaign.
"Part of this is the Trump effect," said Tony Corrado, a government professor at Colby College. "Some major establishment Republican donors are undoubtedly waiting to see which candidate will emerge as the best alternative to Trump."
For some, that's already begun. Marco Rubio, who has emerged as the leading establishment candidate in recent months, won the backing of two major conservative hedge fund donors -- Paul Singer and Ken Griffin -- each of whom gave $2.5 million in late 2015 to a super-PAC supporting Rubio, Conservative Solutions PAC.

Rubio's also winning over some big money that previously backed Bush, who, as a frequent target of Trump's jibes, has struggled to get traction with voters. After raising a record $103 million in the first half of the year, the super-PAC supporting Bush, Right to Rise USA, pulled in only $15 million over the next six months, the bulk of it from one donor.

Chris Cline, the billionaire coal baron and principal owner of Cline Group, gave $500,000 to the pro-Rubio Conservative Solutions. Jasper Reserves LLC, a subsidiary firm of the coal mining giant, had previously given $1 million to Right to Rise. Brian Ballard, a Florida-based lobbyist who had given $20,000 to Right to Rise earlier in the year, contributed $25,000 to the group backing Rubio.
Right to Rise still had $58.6 million in the bank at the end of the year to aid Bush in the primaries.
Ted Cruz, who has been Trump's closest challenger in Iowa, still has the backing of mega donors. Stand for Truth and the quartet of super PACs supporting Ted Cruz, all with Keep the Promise in their name, had $31.9 million of cash on hand at the end of the year, which came from a different set of moneyed donors: hedge fund manager Robert Mercer, energy industry investor Toby Neugebauer and Farris and Jo Ann Wilks. But despite their deep pocketed supporters, Cruz's super PACs had a quiet fourth quarter on the fundraising front.

As for the official campaign committees, Ted Cruz's ended the year with the most cash on hand, $18.7 million, followed by Marco Rubio with $10.4 million and Jeb Bush with $7.6 million. Special attention will be paid to the figures posted by establishment Republicans who are just trying to hang in the race in hopes that Trump falters as time goes on. Cruz got 42 percent of his donations from people giving $200 or less while Rubio got 16 percent in small donations during the fourth quarter.
Those "candidates are really going to focus on Super Tuesday, and Super Tuesday has always been a function of targeting and cash available to spend," Corrado said. "Almost no candidate tends to have the money to run a full-fledge campaign in every state so they've got to choose their spots and then they've got to be able to target those states and be able to run two weeks of advertising going into them as well as the money needed to travel."
Trump, who is self-financing his campaign and eschewing big donors, led the Iowa Poll on Jan. 30 in advance of the caucuses, the first test of whether his outsider message will attract as many voters as it has attention since entering the race last summer and surprising the Republican establishment with his fiery rhetoric.
Trump's campaign fourth quarter financial statement said he raised $13.6 million during the final three months of 2015. Much of that came in the form of a loan from Trump to his campaign committee. Of the $2.6 million listed as contributions, 75 percent came from merchandise sales, such as hats made popular with his slogan: "Make America Great Again."
Similar to his third quarter filings, the cost of collateral for hats and merchandise sold to supporters ranks as one the campaign's largest expenses. The largest expense after payroll was $941,000 on hats and other merchandise followed by $908,000 on air travel of which $827,000 went to Tag Air Inc., which Trump owns.

Trump isn't alone in upending the money game in the race for the White House. While Democrat Hillary Clinton raised $37 million in the final three months of the year for the primary contest and two independent groups supporting her raised about $25 million in the second half, Senator Bernie Sanders has closed in on her in the most recent Iowa Poll and appears to be gaining moment among small donors fueling his campaign.

"Bernie's campaign is built for the long haul," Jeff Weaver, Sanders' campaign manager, said in a prepared statement.
He raised almost $34 million during the fourth quarter and his campaign announced yesterday that in January alone he raised more than $20 million mostly from small donors. The average donation was $27.
"Until now, there's only been two ways to measure the race -- polls and money -- and on Feb. 1 those two take a back seat to real results," Joe Trippi, a Democratic strategist, said. "It is now the event itself that either turns the spigot on or dries it up. Having a great quarter and coming in sixth in Iowa doesn't help you."
Before it's here, it's on the Bloomberg Terminal.
LEARN MORE