Photographer: Dhiraj Singh/Bloomberg
Here's What to Look for in India's Rates Statement
By
Almost all economists see no change in key rate on Tuesday

On watch for measures to address bank liquidity tightness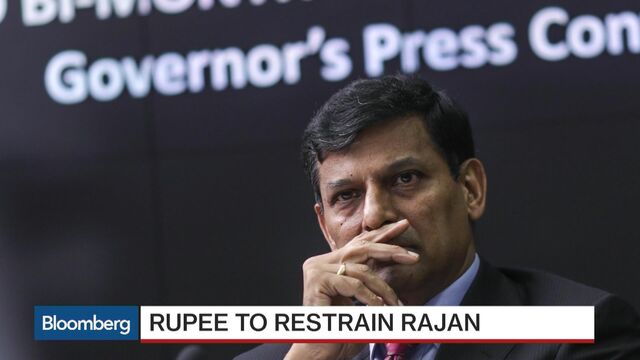 The global financial-market turmoil triggered by China the past month gives Indian central bank Governor Raghuram Rajan plenty to think about at Tuesday's policy meeting. Even so, high on his mind will be a very domestic risk: Asia's widest budget deficit.
Rajan signaled concern about fiscal deterioration on Friday, saying there's not much to gain from more budget stimulus right now. He said that straying from budget goals risks pushing up bond yields and denting the government's credibility. The remarks contrast with his action last year, when he lowered the benchmark interest rate days after Finance Minister Arun Jaitley pushed back deficit targets in favor of stimulus spending.

All but two among 44 economists surveyed by Bloomberg forecast that the Reserve Bank of India will leave the key repurchase rate at 6.75 percent on Tuesday. Here's what to look for in the policy statement, scheduled for release at 11 a.m. in Mumbai. Rajan typically holds a press briefing immediately afterward.
Zero Tolerance?
Economists, many of whom are predicting fiscal slippage, will look for guidance on just how inflexible Rajan will be on his stance. Higher government spending could stoke inflation, especially if not matched by a larger supply of goods and services.
"It is worth asking if there really are very high return investments that we are foregoing by staying on the consolidation path," Rajan said in his remarks on Friday. He said it was a response to what he called "a public discussion of whether India should postpone, yet again, the fiscal consolidation path it has embarked on."
Inflation Target
Rajan will also keep an eye on his 5 percent inflation target for March 2017. Consumer price gains are on pace to end the period at 5.4 percent, Michael Patra, a senior RBI official, said in December.
While oil prices have fallen almost 30 percent since Rajan last cut rates on Sept. 29, the benefits have been eroded by the rupee's 2.6 percent slide this year against the dollar -- the worst performance in Asia after South Korea's won. Expected increases in government salaries and military pensions are also a risk for inflation.
"Unless the RBI has strong conviction about domestic sources of further disinflation -– for example a sharp correction in pulses prices or the long awaited disinflation in services -- it shouldn't expect below-target CPI inflation" next fiscal year, Prasanna Ananthasubramanian, chief economist at ICICI Securities Primary Dealership in Mumbai, wrote in a Jan. 28 research note.
More Cuts?
Economists see a single quarter-point rate cut this year after 125 basis points of reductions in the past year. Swaps are pricing in the possibility of a half-point reduction in 2016.
Market expectations could change "if the global economy tips into a recession, thereby delaying India's growth recovery," Deutsche Bank AG's Kaushik Das wrote on Jan. 29.
Lower interest rates would mainly help companies refinance their debt, rather than boost investment at a time when the global outlook is uncertain, he said.
Liquidity Guidance
Goldman Sachs Group Inc. economist Tushar Poddar is going out on a limb with a prediction that Rajan will cut banks' cash reserve ratio by 50 basis points on Tuesday, releasing an estimated $7 billion into the system. "Liquidity has been very tight in recent months," he wrote. The central bank started addressing this with bond purchases since December.
Economists will look for any indication of how Rajan plans to address the cash squeeze.