Here's What Happens to the U.K. Economy in a `Brexit' Scenario
by and
U.K. economy could experience `nasty shock,' BI economists say

Britain's EU referendum could be held as early as June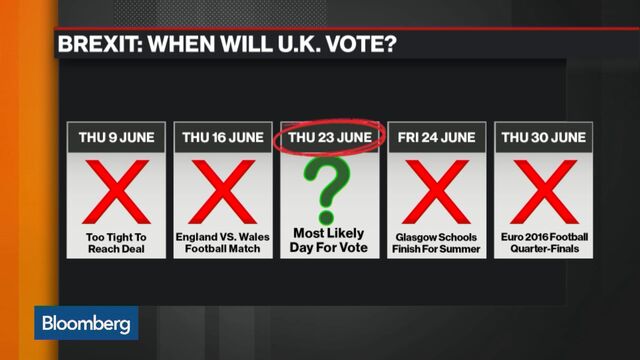 Three is the magic number, unless you're the U.K. and you've just decided to leave the European Union.
According to analysis by economists Jamie Murray and Dan Hanson at Bloomberg Intelligence, a "Brexit" would deliver three punches to the 1.8 trillion-pound ($2.6 trillion) economy through confidence, credit and currency shocks. The referendum on the U.K.'s membership of the European Union could take place as early as June.
Here's BI's model of how far the economy would deviate from a baseline scenario in the event of a British departure. It captures some of the impact, though Murray and Hanson acknowledge that this is a best guess: "It simply isn't possible to know in advance how much fear will set in to markets or how consumers and businesses in the U.K. will respond."

With the "confidence shock," uncertainty over post-exit arrangements means business investment slips and household saving increases, reducing demand. The "credit shock" hits as U.K. banks are seen as riskier and their borrowing costs increase, and the "currency shock" sees foreign direct investment flows drying up over the course of a year. Even before that, investors reassess the risks associated with Britain's large current-account deficit, and the currency depreciates significantly.
While there's an initial jump in inflation (reflecting the weaker currency), that soon subsides and price growth eases -- a lot. The economy weakens and the Bank of England is forced to cut interest rates.
"Confidence, credit provision and exchange-rate risk could all combine to deliver a nasty shock to the British economy," said Murray and Hanson.
Before it's here, it's on the Bloomberg Terminal.
LEARN MORE