Goldman Sachs Employees Shift to Rubio as Bush Support Fades
By
Bush received bulk of earlier campaign contributions

Cruz has secured about $52,000 from Goldman Sachs employees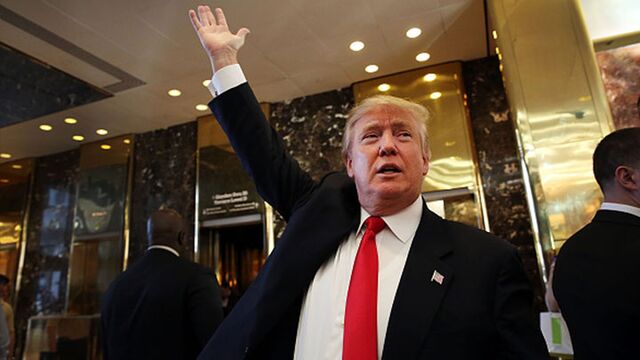 Goldman Sachs Group Inc. employees gave $107,000 to Marco Rubio's presidential campaign in the final three months of the year, a 50 percent jump from the previous two quarters, as support for Jeb Bush faded.
The contributions mark a shift at the investment bank, where employees gave a combined $773,000 to Bush's campaign committee, leadership PAC and the super-PAC backing him since the opening months of the campaign. In the fourth quarter, Bush only got two contributions from Goldman Sachs donors, totaling $2,950. The firm ranks among the 15 biggest donors to federal candidates and committees dating back to 2001, according to the Center for Responsive Politics.

The race for the Republican nomination has confounded supporters of establishment candidates like Bush and Rubio as front-runner Donald Trump's dominance in the polls and the field of more than a dozen candidates made it hard to stand out or even pick a target to attack. Bush has floundered, currently in fifth place in Iowa, fourth in New Hampshire and unable to crack single digits in national polling since last August, according to RealClear Politics.
Rubio appears to have picked up some of the slack. His campaign disclosed today that Joseph Wall, a registered lobbyist in the firm's Washington office, bundled donations for the Florida senator. Wall did the same for Mitt Romney's 2012 campaign, for which Goldman Sachs was the top donor.
Ted Cruz, whose wife Heidi worked for the firm, which even provided a low interest loan to help out his upstart 2012 Senate bid, has received $52,000 from Goldman Sachs employees, all of it to his campaign. The other Republican presidential candidates collectively received less than $19,000 from Goldman Sachs donors last year.
Hillary Clinton fared better than that all by herself in the fourth quarter. She received about $32,000 in the fourth quarter of 2015, bringing her campaign's total from Goldman Sachs employees to $103,000. The super PAC supporting her, Priorities USA Action, got $100,000.
When Clinton first sought the White House in 2008, Goldman Sachs tilted heavily to Democrats, who received 74 percent of the firm's contributions. Since then, Republicans have been the biggest recipients. So far in 2016, 61 percent of its giving has gone to Republicans.