Iran Faces a Long Road to Recovery
by
Creaking banks and volatile prices add to oil's collapse

`It will take 20 years to rebuild,' says Tehran market trader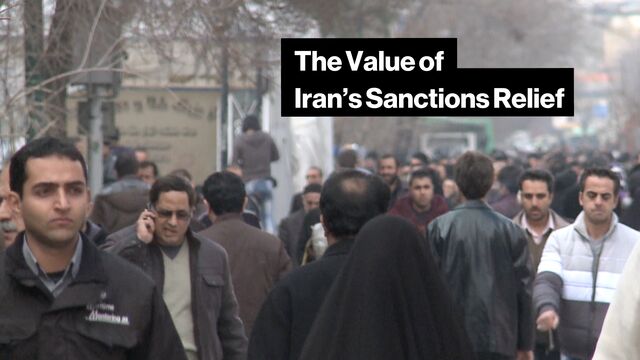 Away from the offices and hotels where Iranian officials greet foreign executives, the narrow, winding walkways of Tehran's bazaars are a stream of chattering shoppers stocking up on reality.
It's been two weeks since sanctions were formally removed from Iran's economy on Jan. 16 and something else is already audible again beneath the traders' appeals to would-be customers ambling past their fruits, spices and housewares: the groans of concern and caution over the country's future.
---
In Pictures: Iran's New Hopes, Fears, and Prayers

---
"I can't really be optimistic, we're long passed that point now," said Vahid, 37, who has worked on his family's stall selling luggage at the Tajrish bazaar since he was a child. The cost of living is too high after rampant inflation and people have no spending power, he said. "For the economy to change, everything has to be turned on its head."
Compared with the cheering and honking of car horns in Tehran when the nuclear deal was inked last year, there's been little reveling. Iranians knew they weren't going to wake up to a new prosperity, and what's dawned on them is the long and arduous journey they face as the country plugs back into the global economy.
20 Years
The tightening of sanctions over Iran's nuclear program in 2011 shrank the $420 billion economy by about 9 percent over the following two years, according to the International Monetary Fund. Measures included oil exports to the European Union and full isolation from foreign banks. Inflation jumped to as high as 45 percent as importers brought in goods through the back door, hiking costs.
Prices still yoyo on a seemingly daily basis. Most of Iran's major banks have largely restored contact with the wider world's SWIFT transactions system, yet European counterparts are examining the risks of working with an industry years behind international standards of compliance and transparency.

Getting paid can be hard: the government owes suppliers almost $200 million, a lawmaker in the parliament's budget and planning commission, told the Iranian Labour News Agency in December.
There's been a flurry of investment promises from foreign companies such as PSA Peugeot Citroen and Daimler AG and returning to the oil market can only help. But it's after the price of crude fell to a third of what it was in November 2013 when the initial agreement on how to end sanctions was reached.
"What has been destroyed in four years will take 20 years to rebuild," said Navid Tammadon, 44, who owns a jewelers in small gold and diamond trading center a corner of the Tajrish market. "Yesterday we saw gold come down a bit and today it went up again, so to me that shows the economy is not good."
Pricey Chocolate
At the entrance to the bazaar, a store called Shemiran Super is stacked with European and U.S. food brands. Hershey's sauces sit alongside Cadbury chocolate bars, while a gleaming red and chrome Italian coffee machine serves customers espresso.
While foodstuffs, like medicines, were exempt from the sanctions, businesses were unable to work with foreign banks and pay for imports. So they imported goods illegally. Pouriya, 42, the store's owner, used contacts in Dubai to ship over stock bought at a Carrefour SA in the emirate.
"Sanctions removal has only just started, so it's too soon to feel any change," said Pouriya, who like baggage seller Vahid didn't want his family name disclosed when talking to foreign media. "Now they're busy buying planes and trains. Let them do that first, let's see what happens with that then we can worry about what I'm trying to sell in here."
He points to a Galaxy chocolate bar with a British 1 pound ($1.40) label on it. It's on sale for 160,000 rials ($5.30), more than three times that.
Peugeot Showroom
Tehranis don't doubt that they also face what could be one of the most pivotal periods in Iran's history.
To fix the economy, President Hassan Rouhani is seeking up to $50 billion of foreign investment a year and aims to increase tax revenues by 15 percent, all while weaning Iran off oil.
Executives from Airbus Group SE, Deutsche Lufthansa AG, and Bombardier Inc. already courted the Iranians, as have French pharmaceutical chiefs. Last week, richer Tehranis enjoyed the opening of a dealership for automaker Peugeot's DS luxury line less than a 10 minute taxi ride from the Tajrish market.
Parviz Karimi, marketing manager at Blue Gulf Shipping Services in the Iranian capital, said it feels like his phone has been ringing incessantly. Businesspeople from Japan, Switzerland and the U.K. are scheduling to visit him, he says.
Sick Economy
Back at the bazaar, shoppers and traders may have gotten used to needing patience, but many say time isn't on Iran's side.
Housewife Mahnaz Mohkdari and her sister Shahnaz were scouring lush fruit and vegetables for the weekend. They expected prices to have started to come down already, and were disappointed when days went by and nothing happened.
"Iran's economy hasn't just got a cold, it's as though it has cancer, said Mahnaz, 49. "It's much harder to treat."
Before it's here, it's on the Bloomberg Terminal.
LEARN MORE