EU Sees `Big Differences' in Talks With Portugal on 2016 Budget
By
European Commission to discuss Portuguese budget on Tuesday

Prime Minister Costa says forecasts in plan are `realistic'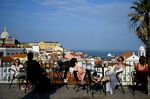 The European Commission said there are "big differences" in talks with Portugal about the nation's draft budget plan for 2016, which aims to reverse measures that the previous government implemented as part of a bailout program.
"Information is being exchanged and processed," Annika Breidthardt, European Union spokeswoman for economic policy, told reporters in Brussels on Monday. "As for the discussions that are ongoing, there are big differences and we are working with the Portuguese authorities to close the gap." The commission, the EU executive, will discuss the matter on Tuesday, she added.
Portuguese Prime Minister Antonio Costa's minority Socialist government plans to reverse state salary cuts and bolster family incomes, easing austerity measures faster than the previous administration proposed. Costa says he can do that, ensuring support from the Communists in parliament, and keep the budget deficit within the EU limit of 3 percent of gross domestic product through 2019.
The government on Jan. 21 said the 2016 budget deficit will be 2.6 percent of GDP this year, narrower than a previous target of 2.8 percent and less than the 3 percent shortfall in 2015. The structural deficit will narrow by 0.2 percentage point to 1.1 percent in 2016, according to the budget plan. It sees economic growth of 2.1 percent in 2016, more than the European Commission's Nov. 5 forecast for a 1.7 percent expansion.
The 2016 budget proposal "is based on growth forecasts and revenue and spending plans that may prove unrealistic," Fitch Ratings said in a note on Jan. 26. "Fiscal relaxation resulting in a less favorable trajectory in government debt-to-GDP levels could lead to negative rating action." The government's debt is rated below investment grade by Fitch, Moody's Investors Service and Standard & Poor's.

The forecasts in the 2016 budget plan are "realistic," Costa said in parliament on Friday. "The budget will respect the commitments that we assumed electorally with the Portuguese, it will respect the commitments we assumed with the parties that approved the government in parliament, and it will also meet the objective of complying with European rules," he said.
Costa was sworn in at the end of November and said his administration would be propped up in parliament by the Left Bloc, Communists and Greens, which haven't followed the Socialists in backing EU budget rules in the past.
Costa's government has already increased the minimum wage and plans to reinstate four holidays and reduce the working week for state workers to 35 hours as it reverses some measures introduced during the three-year bailout program that ended in 2014.
The government plans to submit the 2016 budget to parliament on Feb. 5.