EU Nears Agreement on U.K. Demands After Talks Make Progress
by
Still 'outstanding issues' to resolve, EU President Tusk says

ECB's Draghi says deal would boost confidence in euro area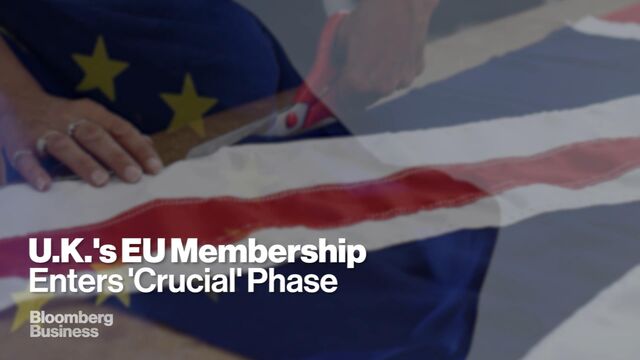 The European Union said it was closer to a compromise with the U.K. over revised membership terms, paving the way for David Cameron to clinch an agreement from his fellow leaders later this month and campaign for Britain to stay in the bloc.
After a second day of talks, EU President Donald Tusk said he is planning to send a template text on Tuesday so government heads can untangle the more intractable problems at a Feb. 18-19 summit.
"Tomorrow around noon I will table proposal for a new settlement" on the U.K.'s demands, Tusk said in a Twitter posting. "Good progress last 24 hours but still outstanding issues."
Britain is edging closer to a make-or-break moment for its relationship with the rest of the 28-nation bloc. After pushing for EU reform for three years, Prime Minister Cameron is bidding for a deal in February that would enable him to hold a referendum on EU membership as early as June.
Officials in Cameron's office said late Monday that they recognize progress has been made during the talks over the past two days and said there would now be intense negotiation with other EU nations to try to get a final deal.
As part of what has been agreed, and in response to U.K. concerns that the EU is not sufficiently accountable to voters, national parliaments would be able to block European legislation if 55 percent of them join together, officials said. They made no mention of how the agreement seeks to answer Cameron's demands on welfare payments to non-British EU workers in the U.K., which has proved most contentious.
Emergency Brake
The prime minister used Sunday's talks to press for a so-called emergency brake to be put in place, granting the U.K. some power to limit benefits to migrants, immediately after a referendum. Some governments have signaled they would find it difficult to sign up to such a measure because it could discriminate against their citizens living in Britain.
Once Tusk has sent out his proposal document, each government's representative in Brussels will have a first opportunity to discuss it and call for changes at a behind-closed-doors meeting on Friday.
With Cameron including safeguards to stop the U.K. from being outvoted in the euro area as part of his demands, European Central Bank President Mario Draghi told EU lawmakers on Monday that an agreement with Britain would be beneficial to nations in the euro too.
"A solution that would anchor the United Kingdom firmly within the EU while allowing the euro area to integrate further would boost confidence," he said. "Citizens and markets are too often unsure about our capacity to act jointly in a spirit of common responsibility. We should prove them wrong."
Before it's here, it's on the Bloomberg Terminal.
LEARN MORE