CLOs, Save Our Souls
How to protect against leveraged exposure to leveraged loans?
by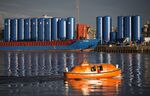 What do you get the collateralized loan obligation investor who has everything except, erm, new supply and, uh, positive returns?
How about a hedge?

Securitized product analysts at JPMorgan Chase & Co. are on the case, searching for new ways for investors to offset their holdings of the bundled leveraged loan products. 
"In light of the continued selloff, we've discussed hedging CLOs with investors interested in protecting themselves against further declines," wrote analysts Rishad Ahluwalia and Jacob Kurosaki.
Their efforts couldn't come at a better time for CLO investors given recent price action in the space. Where CLOs were once the darlings of spread investors, they have since fallen largely out of favor thanks in part to new regulation and a general selloff in credit-related products; no new CLOs priced last week and monthly sales of the products are languishing at their lowest levels since 2012.
Hedging the (gloomy) performance of the sliced-and-diced loans, meanwhile, is tricky given that the best instrument will depend on what part of the CLO is being protected. Furthermore, the JPMorgan analysts back-test potential hedges against a specific one-year period beginning in March 2014 and ending 12 months later.
For the most senior triple-A tranche, the Markit CDX.IG index of credit default swaps tied to investment-grade companies is your best bet, according to JPMorgan's analysis. The same goes for single-A tranches, which aren't senior enough to make loan-related total return swaps (TRS) a good match.


For BB-rated trenches, TRS linked to loans do come out on top in the one-year test period, but that's relatively speaking given the recent gappy price performance shown in the latter chart.


"There are no perfect hedges for CLOs, and this analysis demonstrates, amongst other things, the relationships of hedges in the one year period starting in March 2014 and the second half of 2015," the JPMorgan analysts conclude. "In particular, BB CLOs which have a levered exposure to leveraged loans would likely have exacerbated price swings in periods of high volatility."
Before it's here, it's on the Bloomberg Terminal.
LEARN MORE