China's Record Factory Gauge Slump Adds to a Policy Dilemma
Bloomberg News
Manufacturing PMI fell to three-year low of 49.4 in January

Services indicator edged lower to 53.5 from a 16-month high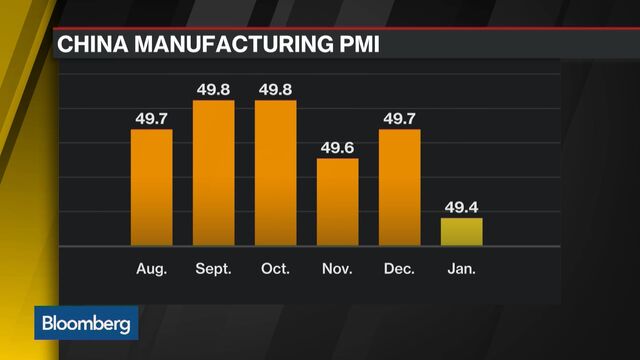 China's official factory gauge signaled a record sixth straight month of deterioration, raising the stakes for policy makers struggling to prop up the economy amid a second bear market in stocks since June and a currency at a five-year low.
The purchasing managers index dropped to a three-year low of 49.4 in January, the National Bureau of Statistics said Monday. That compared with a median estimate of 49.6 in a Bloomberg survey of economists. Numbers below 50 indicate conditions worsened. The official services index also fell, while a private PMI survey signaled the industry shrank an 11th month.
The reports could complicate the dilemma for policy makers: add monetary stimulus to help stem the slowdown in growth, or avoid more easing that could exacerbate record capital outflows and put more pressure on the yuan. Chinese stocks fell, extending January's steepest monthly rout since 2008, threatening to further shake investor faith in how top officials can manage the world's second-largest economy.
"What has happened on the capital account, and how the authorities seem to want to respond to this in terms of policies, make it harder for them to respond to the weak economy by mainstream, forceful monetary measures," said Louis Kuijs, head of Asia economics at Oxford Economics in Hong Kong. He said he expects more "quasi-fiscal policies," such as expedited spending on infrastructure, to be announced in coming months.
Rate Cuts
The People's Bank of China cut the main interest rate six times from late 2014 to late 2015 to a record-low 4.35 percent. It also has made a series of reductions to the reserve-requirement ratio for big banks, allowing them to keep less cash locked up at the PBOC. Meanwhile the Federal Reserve in December raised rates for the first time in almost a decade.
China's capital outflows jumped in December, with the estimated 2015 total reaching $1 trillion according to a Bloomberg gauge, amid a 6.9 percent economic expansion last year that was the slowest in a quarter century. 
The Shanghai Composite Index was down 1.8 percent at the close, bringing this year's drop to 24 percent. Hong Kong's Hang Seng Index decreased 0.4 percent. European stocks retreated, while U.S. equity futures also declined.
Record Stretch
The official manufacturing gauge's six months below 50 is the longest stretch of readings below that level in NBS data since the start of 2005. The PMI slumped last month because of weak demand and efforts to reduce overcapacity, NBS said in a statement Monday. Indicators for new export orders and imports also decreased from a month earlier.
The non-manufacturing PMI for services edged down to 53.5 last month from a 16-month high of 54.4 in December.
A private manufacturing survey released Monday showed some improvement, though it's been below 50 since February. The Caixin China Manufacturing PMI rose to 48.4 last month from 48.2 in December. New orders rose from the prior month, climbing to the highest level since June.
"The economy is still in the process of bottoming out and efforts to trim excess capacity are just starting to show results," He Fan, chief economist at Caixin Insight Group, wrote in a statement released with the data. "The pressure on economic growth remains intense in light of continued global volatility. The government needs to watch economic trends closely and proactively make fine adjustments to prevent a hard landing."
Employment gauges remained below 50 for both manufacturing and services, a signal of a shrinking labor force at both factories and services companies. The pressure to create more jobs is increasing this year, as the government works to reduce excess capacity.
"The non-manufacturing sector is still the pillar to sustain the growth in 2016," said Zhu Qibing, an analyst at China Minzu Securities Co. in Beijing. "The numbers came in fine, but we need to be alerted by the drops in employment and new orders."
— With assistance by Xiaoqing Pi
Before it's here, it's on the Bloomberg Terminal.
LEARN MORE