Bond-Market Inflationistas Say They're No Fools as Losses Mount
by and
Inflation "not always easy to predict," Pimco's Althof says

Goldman sees inflation headed higher, recommends 10-year TIPS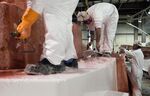 In the U.S. bond market, pinning your bets on inflation hasn't really worked for years.
Yet that hasn't kept some of the biggest debt investors from trying.
While the trade has been a loser for three years running -- at least compared with returns on plain-vanilla Treasuries -- Pacific Investment Management Co. and Brown Brothers Harriman & Co. are doggedly optimistic. They say the bond market, which doesn't see inflation getting anywhere close to 2 percent in the next three decades, is overreacting to the plunge in oil prices.

That's caused investors to overlook the underlying strength of the U.S. economy, which has led to the fastest wage growth in more than five years and made inflation-linked bonds too cheap to pass up.
"We still like longer-dated TIPS," said Michael Althof, a Munich-based fund manager at Pimco, referring to Treasury Inflation Protected Securities. The $1.43 trillion firm has been bullish since 2013 and is one of the biggest holders of TIPS due between 2025 and 2045. "We constructed our view from the fundamentals and the fundamentals suggest U.S. growth and inflation will pick up. But inflation is not always easy to predict."
It's a familiar refrain for inflation bulls, who have been repeatedly stymied by consumer prices that have failed to rise above 2 percent in any year since 2012. That's left holders of U.S. inflation-linked debt, which appreciates along with the cost of living, with losses of 5.5 percent over that span. Treasuries, which like most fixed-rate bonds lose value as inflation accelerates, returned 5.6 percent.

The same trend has played out globally, with inflation-linked bonds trailing their nominal counterparts by almost five percentage points.
"The market has been disappointed repeatedly by the inflation numbers not recovering because of the oil prices," said Anton Heese, head of European rates strategy at Morgan Stanley, which sees U.S. living costs picking up in the longer-term. With the slump in commodities and weaker price-growth abroad, "it is understandable why the market has been so bearish."
With the U.S. expansion in its seventh year, the lack of price pressures is starting to raise deeper questions about whether the economy is built to produce the kind of demand that can get inflation to the Federal Reserve's 2 percent goal. Cheap overseas labor, increased automation and a shift toward part-time service jobs have depressed wages, which are growing less on average than in any expansion since the 1960s. An aging population has also meant a bigger emphasis on saving rather than spending.

DoubleLine Capital's Jeffrey Gundlach was so downbeat on inflation last year that he famously said in his 2015 investment outlook that TIPS were for "losers."
"Growth is going to remain low for a long time to come," said Yusuke Ito, a senior investor at Mizuho Asset Management, which oversees about $42 billion. "I don't see many forces putting upward pressure on inflation. Under those circumstances, TIPS are not the right product."
Ito's view, imbued by Japan's own struggle with deflation over the past two decades, reflects the bond market's consensus. Based on the difference in yields between TIPS and nominal Treasuries, the 30-year inflation outlook fell to an annual rate of 1.49 percent last month -- the lowest since early 2009.
That's too low for Goldman Sachs Group Inc. The bank said in November that 2016 will be a "reflationary year" in the U.S., only to see the recommendation quickly go awry as oil tumbled. The New York-based firm reiterated its call, saying that excluding volatile components such as energy, the inflation picture its much brighter.

Goldman recommends buying 10-year TIPS, which currently yields about 0.55 percent. That might not sound like much, but it's three times the average in the past five years. And if inflation averages just 1.4 percent over the next decade, they're guaranteed to break even with 10-year Treasuries, which yield 1.96 percent.
"Inflation is going to be higher than what the market is pricing," Silvia Ardagna, a London-based strategist at Goldman, said on Jan. 21. "The underlying dynamic in core inflation continues to point upward."
Core inflation, which strips out food and energy, has been steadily rising all year and topped 2 percent in December for the first time since 2012. Overall consumer prices have also been on an upswing, increasing 0.7 percent in the same month, the most in a year.
The last time inflation lagged behind core price gains by such a large margin for an extended period of time was in the mid-1980s. At the time, the world was also in the midst of an oil glut, which took prices from over $30 a barrel to under $10. While oil prices took years to rebound, the disparity between the two price measures quickly narrowed as overall inflation bounced back within 18 months, data compiled by Bloomberg show.

Wages are also improving. Hourly earnings increased 2.5 percent in December from a year ago, according to the U.S. Labor Department, the most since at least 2010.
Investors are signaling that "the U.S. economy will never obtain sustainable 2 percent inflation and the Fed will never meet its inflation target," said James Evans, a New York-based money manager at Brown Brothers, which oversees $65 billion. "That's too pessimistic."
Higher inflation is also key for Fed officials, who still estimate that price gains will reach 2 percent in the medium term, even as the continued slump in energy prices keeps inflation "low in the near term." In December, they projected steady economic improvement would enable the Fed to follow up its first rate increase in a decade with four more this year.

That outlook is facing increasingly strong headwinds. Turmoil in financial markets, China's slowdown and disappointing U.S. corporate earnings have bond investors questioning the strength of the world's largest economy. And those diminished prospects for growth and inflation are prompting traders to price in just one rate increase by year-end.
"It's been a perfect storm" for TIPS, said Martin Hegarty, the head of inflation-linked bond portfolios at BlackRock Inc., which oversees $4.65 trillion.
Although Hegarty has favored longer-term TIPS since the end of 2014 and still finds them "incredibly attractive," he isn't committing more capital to the securities until the market volatility subsides and oil stabilizes.
If anything, it may suggest that inflation bulls need to be prepared to wait even longer before the trade pans out.
(An earlier version of this story was corrected to say last month in 12th paragraph.)
Before it's here, it's on the Bloomberg Terminal.
LEARN MORE