Australia's Bond Rally Looks All But Over
by
Investors stand to lose 1.1% by March 31, analysts project

Bonds have `already performed,' Daiwa SB's Katayama says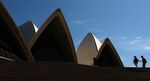 The biggest rally in Australian bonds in six months has pushed benchmark yields to levels that look strained in relation to economists' forecasts and inflation.
Aussie debt joined a global fixed-income rally and returned 1.4 percent in January as tumbling oil and stock prices sent investors to the relative safety of government securities. The weighted average forecast of 18 analysts is for the 10-year yield to end this quarter at 2.82 percent, from 2.62 percent Tuesday. Taking inflation into account, the real interest on the debt is at a 10-month low.
"People will say, 'Hang on, what are we doing buying bonds at these very low rates?"' said Ben Alexander, who helps oversee about $4 billion as an investor at Ardea Investment Management in Sydney. "Eventually inflation becomes a problem. And I think you'll get an exacerbated move" in bonds.

Australia is a standout among world economies because inflation gauges the central bank uses to set policy are near or within its target of 2 percent to 3 percent, buoyed by a weakening currency. While Japan and Europe are using negative interest rates to ward off deflation, the Reserve Bank of Australia held its benchmark cash rate at 2 percent on Tuesday and the U.S. Federal Reserve has flagged tightening plans this year.
John Fraser, the Australian Treasury's top civil servant, said last week global yields will "inevitably normalize" and underscored the risks of the country's benchmark bond rate returning to its long-term average of about 7.25 percent.
Losing Money
Investors stand to lose about 1.2 percent by March 31 if the Bloomberg yield surveys prove accurate. Ardea's Alexander said he sees 10-year yields climbing about 1 percentage point by the end of 2016.
Australia's trimmed mean index of consumer prices rose 2.1 percent in the fourth quarter from a year earlier, within the central bank's target of 2 percent to 3 percent, while the weighted median gauge advanced 1.9 percent. Both indexes exclude the most volatile items.
The overall consumer price index was at 1.7 percent at the end of 2015 and, after that's taken into account, 10-year bonds yield just 0.92 percent as of Monday, the least since March.
Weaker Currency
Reserve Bank Governor Glenn Stevens spent much of 2015 seeking a weaker local dollar to spur the economy, helping guide it lower for a third straight year. A falling currency boosts the competitiveness of a nation's exports and adds inflation pressures by increasing the cost of imported goods.
Altius Asset Management in Sydney is betting falling oil and share prices will underpin support for the safety of government debt.
"It's hard to see much of a catalyst in the next month or two that's going to generate a strong risk-on trade," said Bill Bovingdon, the chief investment officer, who has 30 years of experience in fixed-income investment. "We need a good recovery in equity markets" before bonds will fall, he said.
Oil slumped to a 12-year low in January, while Australia's stock benchmark dropped 5.5 percent in its steepest decline since August. 
Benchmark U.S. bonds also rallied in January, though Bloomberg surveys project Treasury yields will rise this quarter. Futures contracts indicate the Fed will follow its December rate increase with at least one more by the end of 2016.
Daiwa SB Investments says it'll be tough for bonds to rally much further. "Australia fixed income has already performed," said Kei Katayama, one of the investors for the Tokyo-based company's $47.8 billion in assets. "From this level, I'm not too bullish."
Before it's here, it's on the Bloomberg Terminal.
LEARN MORE