U.K. 'Holding a Gun' to EU as Cameron Aims for Early Referendum
by and
British government targets February deal allowing June vote

Tusk offers immigrant welfare concession after Sunday talks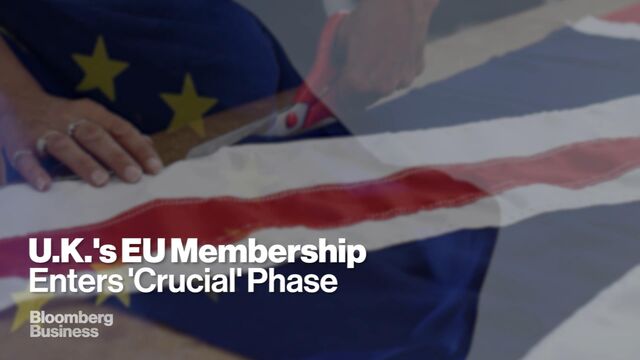 The U.K.'s 43-year membership in the European Union comes into sharper focus this month as Prime Minister David Cameron discovers whether the rest of the bloc will offer him sufficient concessions to convince the British people it's worth staying.
QuickTake Will Britain Leave the EU?
Britain's relationship with the EU, troubled by decades of anxiety over waning national power, the euro area's threat to London's financial clout, subsidies to French farmers and, more recently, mass migration, may come down to the next few weeks of deal-making. Any accord must offer enough special treatment to allow Cameron to claim victory before an in-out referendum as early as June, without prompting a revolt from other members of the 28-nation club.
"If Britain votes to leave it will be a seismic event," said John Springford, senior research fellow at London's Centre for European Reform. "Cameron's strategy of having a renegotiation and then a referendum has been felt by the other leaders as essentially holding a gun to their heads; there's been resistance to allowing Britain to set the terms of the future direction of the EU."
Cameron met EU President Donald Tusk -- the man who represents the bloc's national leaders -- in London on Sunday, and they agreed to postpone the circulation of the former Polish premier's template for a compromise until Tuesday -- 24 hours later than planned. The Tusk meeting was preceded by a hastily organized trip to Brussels by the prime minister on Friday for discussions with Jean-Claude Juncker, the man whose candidacy for the European Commission presidency Cameron tried to block in 2014 and whose support he now needs to help forge a deal with fellow EU leaders at a summit in Brussels Feb. 18-19.
Exceptional Circumstances
The commission, the EU's executive body, has been working on giving the U.K. a so-called emergency brake granting it some power to limit welfare benefits to migrants -- Cameron's most contentious demand -- if the government can prove exceptional circumstances. Since any compromise must win the approval of every EU government, Cameron's room for maneuver is small.
The prime minister used the meeting with Tusk, who traveled to London with his full negotiating team, to press for the brake to be put in place immediately after a referendum and established as a "stop-gap'' until a permanent solution can be found. Tusk's draft agreement for the February summit will now say that current circumstances in the U.K. meet the threshold for bringing in the brake, Cameron's office said after the meeting.
The commission said Monday that "there is some homework to be done" before Tusk's proposal can be sent out to EU governments, with discussions involving U.K. officials continuing in Brussels.
"We're not there yet," spokesman Margaritis Schinas told reporters. "Nothing is obviously agreed until everything is agreed."
While the prime minister's demands for EU reform won't significantly change the bloc or the U.K.'s relationship to it, they might give him enough ammunition to make the case to the British electorate for the country to remain wedded to the continent. 
Free Market
That matters to all Europe for reasons of trade and economics, but also because Britain has been a flag-bearer for the free market and EU enlargement toward the East, even as it refused to go along with more integrationist policies like the single currency and the removal of border checks.
The pound fell to a 5 1/2-year low against the dollar Jan. 21 as investors started to focus on the risks of a potential U.K. exit from the EU. Last week, Barclays Plc warned that markets appeared to underestimate the impact of the referendum as it designated the EU summit a "key risk event." Berenberg Bank raised its assessment of the chance of a vote to exit to 35 percent.
Faced with a tide of anti-EU sentiment in his Conservative Party and a substantial part of the electorate that favors Britain leaving the EU, a so-called Brexit, Cameron has sought to win agreement from his fellow EU leaders in three other broad areas alongside welfare: safeguarding the rights of non-euro countries like his; abolishing the U.K.'s obligation to "ever closer union"; and stripping back regulations that hamper competition.
But it's the demand to limit access to welfare payments for non-British EU citizens in the U.K. that has proved most contentious with governments in countries such as Poland and Hungary. They have sent thousands of people to set up home in the U.K. and say the move would make their countrymen and women second-class citizens in a club where everyone is supposed to be equal.
Merkel Talks
There have been signs that negotiations aren't going to plan. Cameron canceled a planned visit to his counterparts in Denmark and Sweden on Friday to meet with Juncker instead. He said afterward that the proposals were "not enough." On Sunday, the premier's office said "much progress" had been made in the 48 hours after meeting with Juncker and British officials are due to travel to Brussels on Monday morning to continue negotiations.
The prime minister will have the opportunity for face-to-face talks with German Chancellor Angela Merkel, the EU's chief power broker, twice over the next two weeks in the run-up to the summit: on Thursday, when she will co-host a conference on Syria in London; then on Feb. 12 when he is scheduled to make a speech on Europe in Hamburg.
Opinion polls have given conflicting indications of voting intentions. The latest telephone surveys by ComRes and Ipsos MORI showed leads of 18 and 19 percentage points for staying in. Three online surveys have indicated a much closer race, with a YouGov Plc poll published Monday showing 42 percent of respondents in favor of leaving compared with 38 percent for staying in the bloc. YouGov questioned 2,438 adults Jan. 29 for its poll, for which no margin of error was specified.
"As these negotiations are highly technical, it is hard to see how any result -- even if presented as a victory for David Cameron -- can be so compelling to the British people that they would lose their EU-skepticism," said Carsten Brzeski, chief economist for ING-DiBA in Frankfurt. "The rest of the European Union, therefore, is well advised to think of the unthinkable and prepare for a Brexit."
Before it's here, it's on the Bloomberg Terminal.
LEARN MORE