Syria Peace Talks Face High Hurdles as War Rages Unabated
by
Syria's delegation chief says anti-terrorism is top priority

Assad's opponents are demanding end to airstrikes, sieges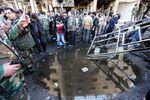 Efforts to end five years of war in Syria face major obstacles after barely averting a boycott by President Bashar al-Assad's foes, who are still holding up the start of indirect negotiations between government and opposition representatives.
With the talks clouded by a triple bombing on Sunday near Damascus that killed at least 45 people and was claimed by Islamic State, the rival sides are dug deeply into long-held positions. "If there is one priority, it is to fight terrorism," Syria's chief negotiator and ambassador to the United Nations, Bashar Jaafari, told reporters in Geneva, referring to opposition forces.
The Saudi-backed High Negotiations Committee, the main opposition group, is demanding an end to Russian airstrikes in support of Assad, a halt to government assaults on civilian areas, the stopping of sieges of rebel-controlled towns and prisoner releases.
Quarter-Million Dead
The U.S. and European states have expressed relief at the opposition's decision to attend the negotiations, which mark the most serious effort to end the conflict. The Syrian war, which has killed about 250,000 people and forced millions to flee their homes, has presented Europe with an escalated threat of terrorist attacks and a growing refugee problem. It has also fueled the rise of Islamic State, a militant organization with a stronghold in Syria and Iraq that has spread to Yemen, Egypt, Libya and Afghanistan.
U.S. Secretary of State John Kerry called the negotiations in Geneva "a pivotal phase" in the diplomatic effort to curb the violence in Syria, urging both sides to "seize the opportunity for serious negotiations," in a video statement on Sunday.
Months of Talks
The talks were originally scheduled to begin on Jan. 25, but were delayed by opposition objections. On Monday, Staffan de Mistura, the UN's special envoy for Syria, postponed the start of so-called "proximity" talks in which he was due to begin shuttling between the government delegation and opposition factions, including a group made up of figures sympathetic to Russia.
Instead, the HNC arrived for a meeting with de Mistura to present their demands. A top priority is a halt to the bombardment of rebel-held suburbs of Damascus, the Associated Press reported, citing Farah Atassi, a member of the opposition coalition.
Scheduled to last for several months, the negotiations aim to agree on a nationwide cease-fire except for offensives targeting Islamic State and the al Qaeda-linked Nusra Front, and on forming by midyear a transitional government that includes the opposition. A year after that, elections should follow under a new Constitution.
The opposition has accused the U.S. of softening demands for Assad's departure as it focuses on combating Islamic State. Syrian government forces, backed by a Russian air campaign now in its fifth month, are making progress against Islamic State militants and rebel forces supported by Turkey, Saudi Arabia and other Gulf nations.
'Disastrous' Meeting
Opposition officials cited in Arabic media said that a recent meeting between Kerry and a Syrian opposition leader, Riad Hijab, was "disastrous," with the top U.S. diplomat said to have pressured the opposition to soften its demands and saying that Assad would have the right to run in future elections.
The HNC is demanding that Assad give up power within six months, before a transitional government is formed, its chief spokesman Salem al-Muslet said in an interview.
Al Hayat, a Saudi-owned newspaper based in London, in its main opinion piece on Sunday accused Kerry of taking the Assad government's side..
While major powers agreed as far back as June 2012 that a transitional government would take over with full executive powers, Assad seems ready to offer the opposition at best a limited role. "The Syrian government is in favor of forming an expanded national government," Jaafari, Syria's UN ambassador, said on Sunday.
The U.S. is continuing to ask Russia to use its influence with Assad's government to ensure immediate and unconditional humanitarian access, especially to besieged areas, a U.S. official said.
The UN estimates that over 486,000 people in Syria are living in besieged areas -- over 274,000 are under the control of government forces, 200,000 people are under Islamic State control, and over 12,000 people are besieged by other groups.
Before it's here, it's on the Bloomberg Terminal.
LEARN MORE