Nordea Readies Liquidity Steps as Mortgage Market Concerns Grow
By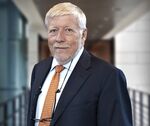 Scandinavia's biggest bank is preparing adjustments that will address a drop in liquidity in the $400 billion mortgage bond market in Denmark.
Nordea Bank AB says it is responding to the fragmentation of issuance that has, in part, followed tighter regulation. The same concern has already prompted Nykredit, Denmark's biggest mortgage lender, to explore changes it says will be unveiled by March.
Nordea Kredit, the bank's Danish mortgage lending unit, is now "working with a number of things," Peter Lybecker, chief executive officer of Nordea in Denmark, told Bloomberg. The goal is to "make sure that we, as a large mortgage bank, are able to issue in series which have enough liquidity to attract the right investors," he said.
"It is a challenge. If I had a very simple solution, I would have suggested it publicly," he said.
Banks operating in the world's largest mortgage-backed covered bond market started voicing concernslast year, when rules capping use of the securities in liquidity buffers took effect. Ironically, a law designed to prevent refinancing auctions from failing has also drained liquidity from the market as lenders create more securities under new ISIN codes to comply. Equally ironically, efforts to spread refinancing auctions over the whole year have also split liquidity as more bond series are created.
"Today, we have 4,000 open series of mortgage bonds," Lybecker said. "That is an issue in terms of liquidity in the market and trading activity."
The central bank has also expressed concern. Governor Lars Rohde in December urged lenders to consolidate their bond issuance. Covered bonds fund virtually all of Denmark's home loans, so any jolts to that market ultimately threaten the financial underbelly of the entire economy. Given that Danes carry gross debt burdens that are three times their disposable incomes -- a rich-world record -- there's little scope for absorbing shocks.
Shrinking liquidity is plaguing Europe's covered bond markets generally, because of the European Central Bank's purchase program. While demand remains strongest outside the euro zone, including Scandinavia, two-thirds of investors polled by Fitch Ratings at the end of last year said they are switching into other assets.
Danish banks and dealers are urging the European Commission to look at the effects on liquidity in its review of recently adopted regulations. Ironically, stricter liquidity requirements for bank balance sheets are draining market liquidity, industry groups said in a Jan. 29 letter.
So far, Denmark's mostly AAA-rated mortgage-backed covered bonds have continued to attract strong investor demand. But low liquidity, coupled with a change in risk appetite, could lead to fire sales, the country's systemic risk council said in December.
Nykredit has said it plans to make "small" but "important" adjustments to address these risks. Nordea is examining its range of products before giving specifics.
But not everyone is worried. Denmark's biggest lender, Danske Bank, says the shortage of liquidity is likely to be temporary.
"When people talked about a liquidity crisis, they might have overstated it a bit," said Klaus Kristiansen, executive vice president at Realkredit Danmark, Danske's mortgage arm. "Right now, we can most certainly find investors for the bonds that we have on issue."
The last thing Danske wants is a regulatory adjustment to tackle any decline in liquidity, given the dramatic changes the industry has already undergone, he said.
At Realkredit Danmark, "liquidity is sufficient in the majority of our issuances," he said. About 84 percent of its mortgage bonds carry the highest liquidity rating. But even at Danske's home finance unit, "there are some smaller products which we are looking into, whether we should continue to offer them," he said.