How Powerful Is Kuroda's New Bazooka? Stock Investors See Limits
by , , and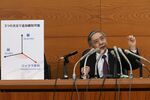 Japan's stock investors are trying to work out whether their biggest ally is still Haruhiko Kuroda.
The Bank of Japan governor's major additions to stimulus in 2013 and the following year were unequivocally good for equities, sending the Topix index up as much as 67 percent through an August peak. The latest salvo to spur inflation -- negative interest rates on some deposits -- is less straightforward. For Norihiro Fujito, general manager of Mitsubishi UFJ Morgan Stanley Securities Co. in Tokyo, it's a lot harder to distill the stock-market impact than some of the bank's other policies, which include buying 3.3 trillion yen ($27.2 billion) of exchange-traded funds a year.
QuickTake Negative Interest Rates
"It's unclear how much positive impact there'll be on the actual economy, and the impact it'll have on corporations and shares," said Fujito. "In the end, it's symbolic of the limits on what the BOJ can do."
Trading after the BOJ's announcement on Friday reflected that confusion. The Topix index soared as much as 3.1 percent, erased its gain within 28 minutes, fell 1.6 percent, then ended up restoring almost all its advance by the close. The measure was still down 7.5 percent this year, buffeted by concerns of a slowdown in China and the rout in oil and other commodities.

For Fujito, negative rates won't directly change supply and demand in the stock market. Plus, the BOJ's new plan is too complicated and will curb profits at lenders, he says. Banks made up 8.3 percent of the Topix at the end of last week. Currency and bond traders were more convinced, sending the yen to its steepest drop in a year on Friday, while yields on Japanese sovereign debt fell to records.
Kuroda took on the BOJ's top job in early 2013, after Prime Minister Shinzo Abe swept to power on a campaign to revive the economy through aggressive monetary policy and fiscal stimulus. In April of that year, Kuroda delivered on the first strategy, committing to double the monetary base through an unprecedented bond buying program. He followed that up in October 2014 by expanding the central bank's budgets for debt and ETFs as he strove to meet a 2 percent inflation target. Stocks soared.
For CLSA Ltd., Kuroda's move last week signals he's still willing to use whatever tools possible to achieve higher prices. Jesper Koll agreed, with the Japan head of WisdomTree Investments Inc. in Tokyo saying that the decision shows Kuroda's leadership and determination to put the economy on a course to higher growth. The BOJ won't hesitate to add further stimulus if needed and has scope to make deeper cuts to the negative rate or to increase its asset purchases, Kuroda said on Friday.
Changing Psychology
"It changes the picture considerably," said Nicholas Smith, a strategist at CLSA in Tokyo. "It changes psychology and helps us claw our way back to inflation. It gets you pretty much in bed with Goldilocks -- this is as good as it gets."
Japan is still struggling to achieve stable inflation, with core prices rising just 0.1 percent in December from a year earlier. Industrial production fell more than expected the same month, as did imports, exports and household spending. After the busiest day of earnings season on Friday, more than half of Japanese companies for which Bloomberg has estimates have missed analysts' profit expectations.
The negative-rate policy takes effect Feb. 16 and will operate as a three-pronged system for financial institutions' current accounts. Existing balances will continue to have a rate of 0.1 percent. A rate of zero percent will be applied to the reserves that institutions are required to keep at the BOJ, and also those related to the bank's various lending support programs. Reserves not included in the first two tiers will have a rate of minus 0.1 percent.
Lifting Lid
"When you lift the lid and look inside, you see they split it up into a three-tier system and it will only apply to certain parts," said Tomoichiro Kubota, a senior analyst at Matsui Securities Co. in Tokyo. "Banks shares went down and real estate went up on the news, but that's going to reverse once people realize this isn't as broad as it seems."
A Topix gauge tracking developers surged 9.5 percent on Friday, the biggest gain among the measure's 33 industry groups. Lenders were the only group to decline, slumping 2 percent. Mitsubishi UFJ Financial Group Inc., the nation's largest bank, sank as much as 8.8 percent before paring that decline to 2.8 percent. The pattern repeated on Monday, when the Topix Banks Index fell 6.6 percent as the broader gauge added 2.1 percent.

The central bank acknowledged in its statement that negative rates could crimp lenders' earnings. Some analysts have questioned whether making banking a less profitable industry will ending up curbing credit expansion rather than encouraging it.
The policy change came as a surprise, because Kuroda had recently suggested it wasn't on the table. The governor said in Japan's Diet on Jan. 21 that negative interest rates have positive and negative aspects and the bank wasn't considering using them.
"Kuroda-san said he wouldn't cut rates, but he did," said Kazuyuki Terao, chief investment officer at Allianz Global Investors Japan. "We can't take his word at face value."
Kuroda and four board members voted last week to adopt the policy, while four others didn't support it. Among the reasons cited by those who voted against: it's confusing; it looks like the BOJ's asset-buying program is reaching its limit; it won't have much impact on economic activity; and negative rates are only appropriate in a crisis.
"Many board members had concerns about the negative aspects," said Rikiya Takebe, head of investment information at Okasan Online Securities Co. "The BOJ wasn't acting as one."
Even though shares ended higher after a wild day of trading in Tokyo on Friday, many investors and analysts were far from popping the champagne.
"I would rate Kuroda's decision as 2 out of 10," said Kubota of Matsui Securities. "But the way he announced it would get a negative rating."
Before it's here, it's on the Bloomberg Terminal.
LEARN MORE