Foxconn's Gou Confident of Winning Bid to Take Control of Sharp
Sharp to make decision on bid next week, Foxconn chairman says

Foxconn's Gou is said to make $5.4 billion bid for Sharp
Foxconn Technology Group Chairman Terry Gou is confident his company will win in its bid to take control of Sharp Corp., the embattled maker of Aquos flat-screen televisions, he said Sunday.
Sharp will make a decision next week on the offer, Gou said at a year-end event for his company in Taipei after he met with Sharp management at their headquarters in Osaka Saturday. The Foxconn chairman had planned to make a bid of about 660 billion yen ($5.4 billion) for Sharp, according to a person familiar who spoke before the meeting took place.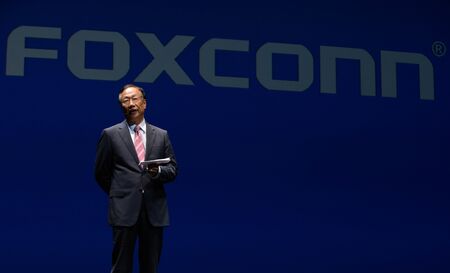 Gou's offer is designed to beat out an alternative deal with Innovation Network Corp. of Japan, the Japanese government-backed fund, and would include about 390 billion yen to buy new shares for a controlling stake, said the person, who couldn't be identified because the information isn't public. About 225 billion yen will be used to buy preferred stock in Sharp, primarily from the company's two major banks, and another 45 billion yen will be used to buy land from the company.
"I'm very confident, if the government says they won't touch" it, Gou said. He said reports that INCJ is a government entity, and that Foxconn is competing with the government, are incorrect.
Though the Taiwanese company is offering more money, Sharp is leaning toward a deal with INCJ, which would keep its technology within Japan and allow it to cooperate more closely with domestic companies, people familiar with the matter have said.
"Our terms and conditions are much much better than competitors," Gou said Sunday. Taiwanese and Japanese technology companies have synergies and should cooperate and develop together, he said. "We don't want to destroy this company, we want to keep it."
Preferred Shares
INCJ may invest about 300 billion yen in Sharp, people familiar with the matter have said. Under INCJ's offer, the banks would hand over the preferred shares for free, the Nikkei reported, without citing anyone.
Under the deal, INCJ would lead a push to restructure Sharp's solar business, streamlining production facilities and integrating the unit with Solar Frontier K.K., the Nikkei reported.
Solar Frontier is a wholly owned unit of Showa Shell Sekiyu K.K.
Sharp's American depositary receipt rose as much as 13.4 percent to $1.27 and closed at $1.25 on Friday.
Gou said at the event in Taipei Sunday that Hon Hai Precision Industry Co.'s profit growth last year met his 10 percent target even as sales failed to reach their goal. Profit margins expanded because of automation, he said. Hon Hai, the Taipei-listed flagship of the Foxconn group, makes iPhones, iPads and MacBooks for Apple Inc.
Before it's here, it's on the Bloomberg Terminal.
LEARN MORE