business
U.S. Warship Enters Waters Claimed by China Without Approval
Alan Bjerga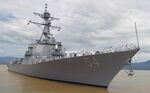 The Pentagon confirmed it sent a ship into waters claimed by China, calling it a "freedom of navigation" operation meant to challenge attempts by that country and others to restrict navigation in the area.
The USS Curtis Wilbur got to within 12 nautical miles (22 km) of Triton Island in the South China Sea, Defense Department spokesman Mark Wright said by e-mail Saturday.
The island, administered by China, is part of the Paracel islands chain in the South China Sea also claimed by Vietnam and Taiwan. Taiwanese President Ma Ying-jeou ignored a rebuke from the U.S. and visited an island in the contested area earlier this week, reiterating claims to the disputed waterway.
The operation by the U.S. was intended to affirm sea rights and wasn't meant to take position on competing land sovereignty claims, Wright said.
"The United States will fly, sail and operate anywhere international law allows," Wright said. "That is true in the South China Sea, as in other places around the globe."
The move on the part of the U.S. is "a deliberate provocation," Yang Yujun, China's Ministry of National Defense spokesman, said in a statement, according to the official Xinhua News Agency on Saturday.
Consequences Questioned
Yang said the move was unprofessional and irresponsible, and may cause extremely dangerous consequences, Xinhua reported.
While the U.S. has challenged China's expansive maritime claims as part of President Barack Obama's "pivot to Asia" strategy, the Pentagon emphasized Saturday it was also signaling opposition to actions by other countries vying with China.
The operation "challenged attempts by the three claimants, China, Taiwan and Vietnam, to restrict navigation rights and freedoms around the features they claim by policies that require prior permission or notification of transit within territorial seas," Wright said in the e-mail.
Vietnam respects harmless travel complying with international rules, Foreign Minister spokesman Le Hai Binh said in comments on the government website Sunday.
The U.S. has also said that all sides in various territorial disputes should avoid aggressive actions and claims.
As is customary in such operations, no other countries were notified in advance, Wright said. The movements were watched by China and not approved by the nation, Chinese foreign affairs ministry spokeswoman Hua Chunying said in a statement, urging the U.S. to respect and abide by Chinese laws.
The passage of the USS Curtis Wilbur near Triton Island was reported earlier by the Wall Street Journal.
(Adds Vietnam's response in 10th paragraph.)
Before it's here, it's on the Bloomberg Terminal.
LEARN MORE