New York Jets Owner Knocking on Doors in Iowa For Jeb Bush
Woody Johnson is walking through Iowa neighborhoods, looking for Jeb Bush supporters.
By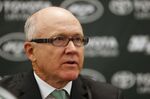 Robert Wood Johnson IV, the great-grandson of Johnson & Johnson's co-founder, has helped raise tens of millions of dollars to support Jeb Bush's presidential campaign. His private plane has shuttled the Republican contender to events around the country and overseas.
Now, with Bush polling in the low single digits in Iowa, Johnson, owner of the New York Jets NFL team (estimated value: $2.6 billion), is performing a more grass-roots campaign function:  knocking on doors in the state that holds the nation's first presidential nominating contest on Monday.
Johnson, who sold a Manhattan co-op for a record $77.5 million last year, rapped on doors this week in Cedar Rapids, where the median home value is about $125,000, according to the real estate site Zillow Group. At one house, Johnson introduced himself as Woody—as he's known among friends—to an elderly man who had lost both hands. The man wanted to know what could be done to increase the Social Security payments he's living on.
"I told him I felt very badly—you can't live on a one percent increase," Johnson said in an interview. Prospects for Social Security recipients and other Americans would improve if the U.S. economy were to grow faster, he said. "It's been just pathetic. We've got to grow closer than 4 percent. How can we do that? Read Jeb's plan."
"Jeb's plan" is a a 47-page booklet that volunteers, staffers and, apparently, Johnson, the finance chairman for Bush's campaign, are handing out to potential supporters.
The booklet isn't just a policy primer, it's also a weapon.
One Bush staffer used the booklet to fend off a pit bull while knocking on doors in New Hampshire, Bush told his campaign team on Wednesday during a pep talk at their state headquarters in Des Moines.
"She went to what turns out to be a drug house," Bush said. "I think they had a meth lab in there."
As Steph Carlton, a health care policy adviser on the campaign, knocked on the door, Bush said, a pit bull charged out and tried to bite her arm. The woman was fine, thanks to a thick winter jacket and the policy booklet she used to swat at the canine, Bush said. 
"Not only is this solid policy," Bush said, holding up the booklet, "but apparently pit bulls like to eat this."