Clinton's Price-Gouging Complaint Sidesteps Generic Drug Problem
By and
Migraine drug from Valeant garners attention at Iowa town hall

Thousands use Perrigo generic whose cost has tripled since '11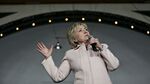 Hillary Clinton picked a hot-button target this week when she cited Valeant Pharmaceuticals International Inc. for raising the price of a migraine drug.
No question, the Valeant drug that Clinton cited has soared in price for the elderly Iowa voter who joined her at the town hall meeting.  At least a handful of other people across the country also use the expensive branded drug, according to data compiled by Bloomberg Intelligence.
Many thousands, however, take the migraine drug's generic alternatives, whose prices have also risen sharply since 2011, according to Bloomberg Intelligence. Though they rarely get the attention of their higher-priced brethren, the generics and their pricing pressures merit a look as well.
After Valeant's stock price fell on Clinton's comments on Thursday, the company issued a statement saying so few people take the migraine drug that it had to raise the price to keep making it, an injectable primarily administered in hospital settings. It declined further comment. Valeant has been addressing its pricing policies following a flurry of criticism last year. 
'Absolutely Gouging'
Reading from a letter by Ellen Mayberry at the campaign event, Clinton said that the retail price of the Valeant medication, known as D.H.E. 45, had increased from $180 for ten doses in the 1980s to $14,730 in December.
Valeant "is absolutely gouging American consumers and patients," Clinton told a cheering audience. "I'm going after them. We are going to stop this."
One of the less expensive generics, from Perrigo Co., outsells Valeant's version 250 to one, Valeant said in a response to Clinton's comments posted on its website. The generic version's price has more than tripled since 2011, according to data compiled by Bloomberg Intelligence. It now costs $600 a carton, according to GoodRx, a website that lists pharmacy prices.
Pharmacies filled fewer than 100 prescriptions for Valeant's branded migraine drug in 2015, versus more than 40,000 for generic versions, according to Bloomberg Intelligence. Valeant said in its statement that it sold 200 units of the drug in 2015.
A Perrigo spokeswoman declined to comment about its price increase. 
According to Elizabeth Krutoholow, an analyst with Bloomberg Intelligence, generic drug makers often raise prices because of supply interruptions among rivals, industry consolidation or a slowdown in approvals for new entrants by the Food and Drug Administration.
Clinton Plan
The Clinton campaign didn't immediately respond to a request for comment about generic pricing, which wasn't the subject of Hillary's campaign discussion. Her published plan for lowering prescription drug costs outlines generics as part of the solution. Clinton "will encourage competition to get more generics on the market and create a Federal backstop for when there are excessively high-priced drugs that face no competition," it says.
Valeant's stock fell 8.8 percent to $86.12 on Thursday, the day Clinton made her comments, a steeper decline than in drug stocks. It partly rebounded on Friday to $90.22.
Valeant said in its statement the migraine drug has a market share of less than one percent and will generate only about $1 million in revenue this year. When volumes decline, manufacturers must consider price hikes to keep production viable, it added.
Pricing Practices
Valeant's interim CEO Howard Schiller has agreed to testify next week before Congress about the company's drug pricing practices. Valeant had the highest average drug price increase in the industry last year, at a rate of 65 percent across 50 drugs, according to Express Scripts Holding Co.
A clip posted on Clinton's campaign web site didn't indicate whether Mayberry, who joined the candidate during her Iowa campaign event, is using Valeant's drug because it works better for her than generics or for some other reason.