Yen's Drop Lags Previous Shocks as Kuroda's Firepower Stutters
by and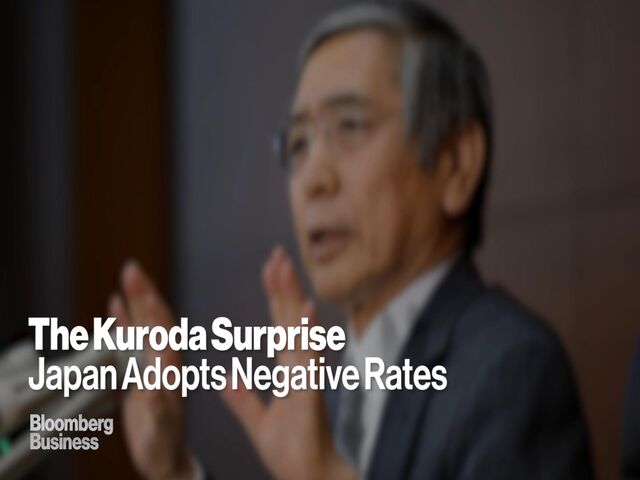 Haruhiko Kuroda's surprise move to adopt negative interest rates left currency traders wondering how much more ammunition he has to expand stimulus.
The yen's 1.4 percent drop by 3 p.m. Friday in Tokyo is less than the 3.4 percent plunge on April 4, 2013, when the Bank of Japan governor started quantitative and qualitative easing, and the 2.8 percent plunge on Oct. 31, 2014, when he expanded the program. This week's policy decision to retain the target for an annual expansion of 80 trillion yen ($662 billion) in the monetary base comes after speculation Kuroda may run out of assets to buy to get to his inflation target.
"The market will question why the central bank is not increasing asset purchases anymore," said Mansoor Mohi-uddin, senior markets strategist in Singapore at Royal Bank of Scotland Group Plc. "Are they running out of assets to buy as we have been concerned about?"
The yen fell to 120.56 per dollar at 3 p.m. in Tokyo, after tumbling more than 2 percent to as low as 121.42 soon after the decision was announced.
By a 5-4 vote, Kuroda led his colleagues to introduce a rate of minus 0.1 percent on certain excess holdings of cash. The policy takes effect Feb. 16 and will only be applied to new excess reserves. Existing balances will continue to have a rate of 0.1 percent. Kuroda had said Jan. 21 the central bank wasn't considering negative rates.
"This appears to be an incremental policy easing step rather than a big bang," said Joseph Capurso, a currency strategist at Commonwealth Bank of Australia in Sydney. "I suspect this policy easing was all Kuroda could muster, judging by the slim 5-4 majority that voted for the policy change." The yen would recoup most of its losses, he said.
The BOJ decision halted a yen rally versus the greenback that was threatening to be the strongest since Kuroda took office in 2013. Japan's currency had appreciated as much as 8.5 percent since touching its weakest level in 13 years in June.
"The adoption of negative rates looks much less aggressive than the initial headlines," Mohi-uddin said, adding that investors should buy the yen if it falls beyond 120 yen.
Before it's here, it's on the Bloomberg Terminal.
LEARN MORE