Stocks Post Worst January Since 2009
by
Final-day rally softens blow, but equities damage already done

Gauges of investor anxiety rise sharply amid global concerns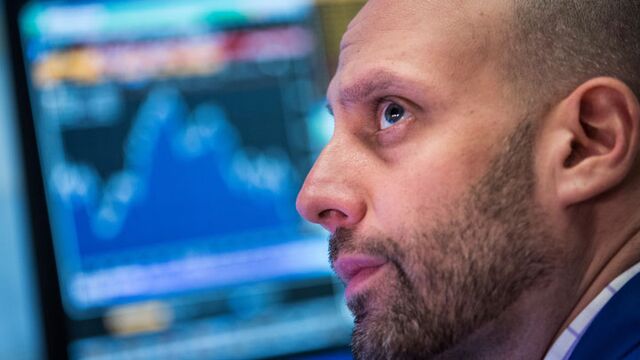 Maybe the best thing you can say about the worst January for stocks in seven years is that an excess of optimism won't be a problem for equities in 2016.
Even with the Standard & Poor's 500 Index's rebound in the final two weeks, it wasn't enough to reverse a selloff that at its lowest point erased $2.5 trillion from American shares. It could've been worse. After tumbling to a 21-month low, the benchmark ended the month with its biggest one-day rally since September to trim the monthly loss to 5.1 percent.

While the culprits weren't a surprise, the violence they caused was. Plunging oil, concern China's slowing growth will spread and rising stress in credit markets had been visible for months -- and did nothing to keep Wall Street strategists from predicting a 10 percent gain for equities in 2016. The average target is now falling as measures of investor anxiety reach levels last seen in 2013.
"The question is: Do we get it all washed out in January and then move on, or is it a harbinger of doom to come? I don't know if I have a great answer either way," Gina Martin Adams, equity strategist at Wells Fargo Securities LLC, said by phone. "A significant portion of upside equity returns usually do happen in November, December and January, so to lose the performance in January puts pressure on later this year."
Whether there's truth in the adage "as goes January, so goes the year" depends on whom you ask. Since 1927, the remaining 11 months have moved in sync with the first 68 percent of the time, suggesting a weak month could portend a weak 2016. Taking the signal from January's 6.1 percent retreat in 2008 spared you a 34 percent plunge during the rest of the year. Bailing after the 8.6 percent tumble in 2009 would've cost you a 35 percent rebound.
Going by the value erased in one month, an amount that is partially a function of how far stocks have come in the bull market that began in March 2009, January looks bad. About $1.3 trillion was wiped out through Thursday, second among months only to October 2008 in data compiled by Bloomberg. At its worst closing level, on Jan. 20, the S&P 500 was down 12.7 percent from its May record, closer than any time since 2011 to a bear market.
The selloff led four U.S. strategists to cut their targets for where the S&P 500 will end the year, with JPMorgan Chase & Co. slashing it to 2,000, the most bearish among 19 firms tracked by Bloomberg.
Global equities got caught in the downdraft, with MSCI's all-country gauge sinking within points of a bear market as China's devaluation of its currency coupled with renewed selling in crude sparked a flight from risk assets around the world. European stocks plunged more than 6 percent, while Japan's Topix Index lost more than 7 percent. Emerging-market assets also retreated, with resource exporters hit hardest. 
Meanwhile, bond investors benefited from rising demand for haven assets, with Treasuries rising for a third straight January. That sent yields on benchmark 10-year notes to 1.92 percent, the lowest since April. Gold capped its best monthly rally in a year.
Deciphering what the month portends requires investors to assess the future of the global economy. Wall Street isn't alone: Federal Reserve policy makers said Jan. 27 they're"closely monitoring global economic and financial developments" to gauge the impact on the U.S. outlook.
"There's a consensus of concerns right now," said Chris Bertelsen, chief investment officer of Sarasota, Florida-based Global Financial Private Capital LLC, which oversees about $5.3 billion. The market's pullback is necessary to bring down valuations, though its violence caught many investors by surprise and they'll have to dig out from this month's losses to get back to even, he said. "Nobody could really escape it."
Measures of investor anxiety reflect that. The Chicago Board Options Exchange Volatility Index averaged 23.72 in January, a 32 percent increase from December's 18.03 average, and the biggest average monthly gain since August. Meanwhile, the percentage of investors who are bearish on U.S. equities averaged 43.11 this month, up from last month's 29.11, while hitting the highest level since April 2013 along the way.
"There's a lot of angst out there, a lot of nervousness," said Jeff Mortimer, the Boston-based director of investment strategy for BNY Mellon Wealth Management, which oversees more than $183 billion. What made this correction different than August's was the rise of speculation about whether it signals a recession is imminent, he said.

Then, as now, it took central bank signals and action to stanch the selloff. Global equities bottomed on Jan. 20, the day before European Central Bank President Mario Draghi signaled additional stimulus may come as soon as March. At the same time, oil began a surge that took it $5 higher to above $33 a barrel. On Friday, the Bank of Japan's unexpected increase in monetary easing sparked the rally that pushed the S&P 500 higher by 2.5 percent, the most since Sept. 8.
Economic reports have been mixed. Gross domestic product rose at a 0.7 percent annualized rate in the three months ended in December, in line with the median forecast of 0.8 percent in Bloomberg's survey of economists. Housing reports were generally positive, with new-home sales surging in December to a 10-month high.
"Economic data isn't pointing towards recession, earnings haven't been horrible. As long as economic data can stay in this 'low and slow' category, investors are going to feel increasingly better," said Michael Antonelli, an institutional equity sales trader and managing director at Robert W. Baird & Co. in Milwaukee.
The S&P 500 rose 1.8 percent in the week, posting its first back-to-back gains of the year. From its lowest point on Jan. 20, it has climbed more than 7 percent.
"Our job is to figure out whether or not this is a false alarm and a growth scare or not and right now we're in the 'not' camp -- we think it's a growth scare, not a precursor for a recession," Mortimer said. Rather than taking risk out of their portfolios, BNY Mellon held pat, neither leaning into the correction nor changing strategy, he said. "My hand is on the steering wheel. I have to make sure that I have a steady hand."
Before it's here, it's on the Bloomberg Terminal.
LEARN MORE