This Super Bowl Ad Thinks Buying Mortgages on Your Phone Will Save America
"You could get a mortgage on your phone."
by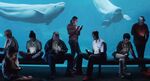 Sometimes, it feels as if we just can't stop thinking about the financial crisis. Every macro event is the next "Lehman moment;" every retreat in stocks marks the early innings of the next crash.
Other times, it's as if we've all forgotten that the financial meltdown ever happened. Quicken Loans' 2016 Super Bowl ad falls into the latter category.
Here's the narrator:
What if we did for mortgages what the internet did for buying music and plane tickets and shoes? You would turn an intimidating process into an easy one. You could get a mortgage on your phone. And if it could be that easy, wouldn't more people buy homes? And wouldn't those buyers need to fill their homes with lamps and blenders and sectional couches with hand-lathed wooden legs? And wouldn't that mean all sorts of wooden leg making opportunities for wooden leg makers? And wouldn't those new leg makers own phones from which they could quickly and easily secure mortgages of their own, further stoking demand for necessary household goods as our tidal wave of ownership floods the country with new homeowners who now must own other things. And isn't that the power of America itself, now shrunk to fit the hands of a child, or more helpfully, a home-buying adult. Anyway, that's what we were thinking.
To simplify: Quicken Loans says the American dream can be most widely realized through a supposedly virtuous cycle of consumption booms tied to a rising rate of homeownership.
For most American homeowners, a house is the largest asset on their balance sheet. Perhaps the process of securing financing for that ought to be more onerous than buying Taylor Swift's new album on iTunes.
"It's an opportunity for people to leverage technology to get a mortgage," said Quicken Loans CEO Bill Emerson. "Rocket Mortgage uses the same underwriting as used for traditional agency mortgages. It gives people a quicker way to access the approval process."
Before it's here, it's on the Bloomberg Terminal.
LEARN MORE