Stock Investors Mind the Bounce as S&P 500 Rebounds Take Longer
by
The benchmark gauge posts weakest rebound of the bull market

Rallies proving short-lived as 1% days alternate up and down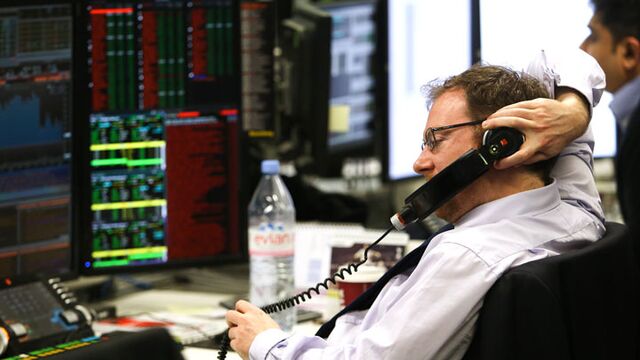 It's official: the U.S. stock market isn't bouncing back the way it used to.
You can see it in the move for the Standard & Poor's 500 Index since it spiraled to a 21-month low on Jan. 20. The benchmark gauge for American equity has rebounded almost 2 percent since that date, the slowest recovery from any bottom that held after a comparably sharp plunge in seven years, data compiled by Bloomberg show.

The wait is sowing a sense of dread among bulls who grew used to V-shaped moves every time stocks tumbled since recovering from the financial crisis in 2008. The anxiety is exacerbating intraday trading, in which rallies are repeatedly falling apart and big moves on one day are reversing with uncommon frequency the next.
"The 'all in' buying is gone," said Larry Weiss, head of U.S. trading at Instinet LLC in New York. "People still test the waters at the lows, but not as committed."
Confidence has been shaken in a market where everything from China to oil and the Federal Reserve are creating daily hurdles for stocks. More than $2 trillion had been erased from American share prices this year as the S&P 500 extended a drop from a November high past 11 percent -- its second correction in five months.
Unlike the last selloff in August, when the S&P 500 rebounded 6.4 percent in two days after reaching its low, the index's two-day bounce from the latest trough was less than half of the size and followed by alternating gains and losses. The data covers instances in which five-month lows were hit and held for a least a week, and treats a stretch such as April to October 2011, when the S&P 500 lost 19 percent, as a series of shorter-term plunges.
The lack of resilience is a departure from the last three years, where investors treated bad news as transitory and used declines as opportunities to buy the dip. Since 2009, the average bounce over the first six days following bottoms was 6.3 percent, data compiled by Bloomberg show.
Now they're shifting to sell the rally. In the 18 trading sessions since New Year's, the S&P 500 has fallen an average of 1.1 percent from its intraday high, double the peak-to-close slide posted last year. The average daily drop from the S&P 500's intraday highs in 2016 compares with a 0.55 percent retreat throughout the bull market, according to data compiled by Bloomberg.
"The attitude is that globally we're not in a great shape," Jason Cooper, a money manager who helps oversee $2.5 billion in South Bend, Indiana, at 1st Source Investment Advisors, said in a phone interview. "It's very possible that we may have another leg lower," he said. "I haven't wanted to be too ambitious to put any new cash to work."
Rising volatility may be putting off buyers. The year began with an average intraday swing in the S&P 500 of 40 points, compared to 22.6 points last year and 16.5 in 2014. Before Thursday, the Dow Jones Industrial Average had alternated between gains and losses of more than 200 points in the previous four days, a stretch not seen since August 2011.
Every day that goes by without a snapback casts doubt on the resolve of bulls, according to Matt Maley, an equity strategist at Miller Tabak & Co LLC in New York. The S&P 500 needs to reclaim the Jan. 27 intraday high of 1,916.99 to keep the uptrend going, he said. The index closed Thursday at 1,893.36.
"The longer it takes to break out, the tougher it will be to do it," Maley wrote in a note to clients Thursday. "The next few trading days (into early next week) should be important. If we cannot break out over the next week or so, the odds will fall considerably that a sharper rally is indeed going to take place."
Before it's here, it's on the Bloomberg Terminal.
LEARN MORE