Spanish Radicals Run Rings Around the Old Guard as New Era Dawns
by
Socialists snookered by surprise offer of governing alliance

Podemos joins populist movements sweeping western world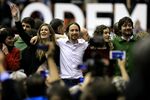 Anti-austerity group Podemos is making most of the running in Spain's search for a government, shaping the policy process before they've even got a hand on the reins of power.
Two years after it was formed by a ragtag bunch of Marxist university professors and student activists, the party's deft management of Spain's post-election impasse shows populists don't have to be in office to set the agenda. As it navigates the uncharted political landscape caused by the splintering of votes between four main parties, Podemos is wrenching the Spanish establishment away from the center ground on issues from labor law to budget policy and Catalonia's future.
"Podemos benefits from the paralysis and the lack of initiative of the other forces" in the Spanish Parliament after December's inconclusive vote, said Pablo Simon, a political science professor at Carlos III University in Madrid. "It has better close control of the political football."
Podemos emerged from the 2011 street protests of young Spaniards enraged by the lack of opportunities after years of recession to join the populist movements reshaping political reality across the western world -- Britain's upcoming referendum on leaving the European Union can trace its heritage to the influence of the U.K. Independence Party, while in France, President Francois Hollande's plans to strip back the rights of citizens linked to terrorism is straight out of the National Front's playbook.
Teasing the King
Under the leadership of Pablo Iglesias, a 37-year-old political scientists who once gifted the King of Spain a Game of Thrones DVD box set, Podemos consistently outmaneuvers more established parties hamstrung by their political debts and conventions. That's not down to luck but a deliberate tactic aimed at winning power and influence, according to Jorge Moruno, a senior party adviser.
"This is not just technique or political marketing," Moruno said in a telephone interview. "We don't see a separation between communication and politics, between saying and doing. This doesn't just happen without a lot of analysis and discussion."
The latest example of Podemos's ability to set the agenda came last week when Iglesias ambushed Pedro Sanchez of the Socialists with a public offer to make him the next prime minister in exchange for ceding key cabinet positions.
As Iglesias's plan went out live on television, Sanchez was ensconced with Felipe VI, explaining to the king why the acting prime minister, Mariano Rajoy, should be the first to face a confidence vote in parliament. Twisting the knife, Iglesias challenged Sanchez to impose his authority on party dissidents opposed to a deal with Podemos.
Socialist grandee Felipe Gonzalez, who served as prime minister for 14 years, told Sanchez to steer clear.
"The arrogant behavior of Podemos's leaders, with humiliations that reveal their real intentions, shouldn't be accepted," Gonzalez said in an interview with El Pais published Thursday. "It's pure Leninism 3.0."
Framing Debate
Iglesias's intervention upended the process of searching for a governing alliance: Rajoy withdrew, at least for now, his bid to cling to power and Sanchez was forced to confront his opponents among the party's regional power-brokers. Sanchez's moment of truth may come on Saturday, when a meeting of his party's federal committee will set the parameters of any negotiation with Podemos.
Podemos's appeal to those who've suffered from the economic crisis -- many of whom are former Socialist voters -- has spurred its main rival into action. Exhibit A is a Socialist pledge to repeal a constitutional commitment to balance the budget that the party itself introduced in 2011. Sanchez is also committed to rolling back Rajoy's reforms that make it easier to fire workers and pressing the European Commission for more budget leeway.
Spain is far from unique in witnessing the political impact of populist appeal. In the U.S., Donald Trump is leading the Republican nomination race with a mixture of anti-immigrant rhetoric and political chutzpah.
The U.K. Independence Party's 3.9 million votes and siren calls to euro-skeptics in the governing Conservative party were instrumental in pushing Prime Minister David Cameron to call a referendum on EU membership. French Justice Minister Christiane Taubira quit Wednesday in protest at Hollande's plan to strip dual-nationality terrorists of their citizenship.
Political Spectacle
Iglesias's proposal for a joint cabinet with Spain's establishment Socialists is the latest of a series of theatrical coups that have helped Podemos capture the imagination across Spain and around the world. On the first day of the new parliament, Podemos dominated the headlines by disregarding the conventions of the chamber -- scruffy jackets hung on the back of chairs, knapsacks cluttered the aisles, one lawmaker sported dreadlocks, another breastfed her baby during the session.
Xavier Domenech, speaker of Podemos's Catalan wing in parliament, captured the mood when he emerged from a meeting of lawmakers this week to meet a scrum of reporters fighting for position in his press conference.
"It seems like every time we make an appearance the history of the country is about to change," he said.
Before it's here, it's on the Bloomberg Terminal.
LEARN MORE