Sky Says James Murdoch to Succeed Nicholas Ferguson as Chairman
By and
Rupert's son cements status as heir apparent of media empire

Former chairman makes comeback years after hacking scandal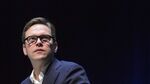 James Murdoch will return as the chairman of Sky Plc four years after a high-profile hacking scandal drove him out of the European pay-television company, cementing his status as heir apparent at his father's media empire.
James Murdoch, 43, Rupert Murdoch's son, replaces Nicholas Ferguson, who is stepping down after 12 years on the board, Sky said Friday in a statement. James previously ran Sky as chief executive officer from 2003 to 2007 and as chairman from 2007 to 2012, before stepping down amid the scandal at the family's News of the World tabloid in London.
The appointment is another signal that James is in line to succeed 84-year-old Rupert Murdoch as the leader of the dynasty. Last year, James replaced his father as CEO of 21st Century Fox Inc., the U.S. media giant which owns 39 percent of Sky. The appointment also will stoke expectations that Fox may increase its stake in Sky, said Erhan Gurses, an analyst at Bloomberg Intelligence.
Unanimous Support
James was the sole person to be recommended as chairman and got unanimous support from Sky's board, CEO Jeremy Darroch said on a call with reporters. His deep knowledge of the international media industry will be a "huge asset" as Sky expands, he said.
Sky rose 2 percent to 1,062 pence at 2:15 p.m. in London. The stock has risen 13 percent in the past year, outpacing the 9.7 percent drop in the FTSE All-Share Index.
With the return of James, the Murdoch family is further moving past the scandal that tainted their company in the U.K. Rebekah Brooks, another executive forced out in the hacking scandal, returned last year to her role as head of the U.K. subsidiary of News Corp.
Accessing Phones
At the time of the hacking scandal, James was a rising star at News Corp., which then included the Fox film studios, cable channels and newspapers like the Wall Street Journal. In addition to his role as Sky chairman, James was the head of international operations at News Corp. Rupert Murdoch split News Corp. in two in June 2013, giving 21st Century Fox the entertainment assets and leaving News Corp. with print properties.
Journalists at News of the World were accused of accessing phones of story subjects, including the interception of messages on a murdered school girl's phone. Though the Murdochs were never charged with wrongdoing, the scandal grew to include terror victims, celebrities and other public figures. It led to charges against journalists, the closure of News of the World, withdrawal of a takeover bid for Sky and James's relocation to New York. In a 2012 ruling, British regulator Ofcom singled out James for his role, in comments that News Corp. called "not at all substantiated by evidence."
Family Control
With a market value of about $26 billion, Sky is half the size of Fox. While there has been speculation over the future of Fox's involvement in Sky for a while, Murdoch's nomination adds "fuel to the fire," said Roddy Davidson, an analyst at Shore Capital who raised Sky to buy from hold Friday. At the least, James's return suggests Fox isn't looking to reduce its stake in Sky, analysts at Investec and Nomura said in notes to clients.
Even without an increased stake, the appointment gives more control over Sky for a family that has received criticism for its corporate governance record and faced accusations of nepotism. The appointment "may raise some questions about the balance of the board" between independent and non-independent directors, Citigroup Inc. analysts including Thomas Singlehurst said in an e-mailed note.
James, who dropped out of Harvard University in 1995 and created a record label that established hip-hop acts Mos Def and Talib Kweli, joined the Murdoch empire in 1996. In 2003, age 30, he became the youngest CEO of a FTSE 100 company when his father appointed him head of British satellite-TV operator BSkyB, as Sky was then named.
James's brother Lachlan, 44, returned to the family business two years ago after nine years in Australia. Meanwhile Elisabeth, 47, a successful businesswoman on her own in the U.K., has been in and out of her father's empire.
Netflix Competition
Sky operates in five European countries and is facing competition from the likes of BT Group Plc and Netflix Inc. The company is boosting revenue from its Now TV on-demand streaming service as more people sign up to watch shows including "Sons of Anarchy" and "Game of Thrones."
Sky said first-half revenue rose 5 percent amid customer gains and demand for its Web-based streaming service. Sales increased to 5.72 billion pounds ($8.2 billion) in the six months through December from 5.44 billion pounds a year earlier, the London-based company said. Sky added 337,000 customers in its second quarter, bringing the total to more than 21 million.