Decision On Oil Cut Only Possible If All Exporters Agree, Russian Energy Minister Says
by , , and
Venezuela called for emergency summit of OPEC, non-OPEC states

No meeting has been confirmed, Russian energy minister says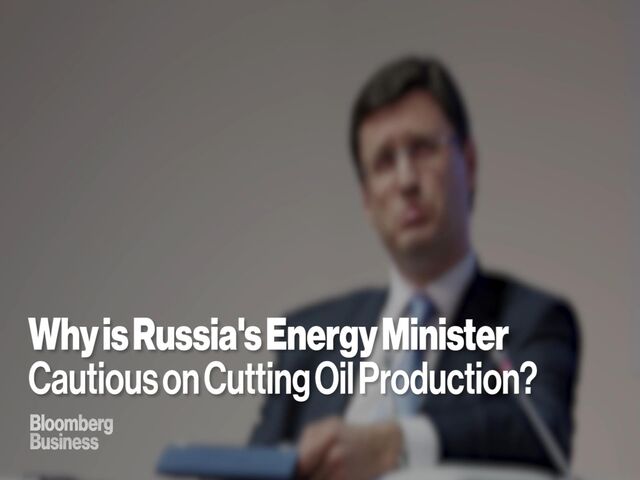 A decision on cutting oil production is possible only if all crude-exporting nations are in agreement and there's no timing for talks, Russia's Energy Minister Alexander Novak said.
"We're ready to discuss the issue of cutting oil output volumes" but not ready for a decision, Novak said Friday in an interview with Bloomberg Television. "We're ready to consider the possibility; this should be a consensus. If there's a consensus, it makes sense."
Oil pared gains after Novak's comments. Prices closed at the highest in three weeks on Thursday after Novak said that the Organization of Petroleum Exporting Countries and other producers may meet to discuss output. Traders have looked for signs of cooperation between producing nations after a global glut of crude pushed prices to a 12-year low. The head of OPEC this week called on producers outside the group to assist in reducing the oversupply, signaling once again its members won't make output cuts alone.
"There's no set date" for a meeting, Novak said. "As far as I understand they are discussing it with other possible participants." Russia has taken part in such consultations before and "nothing new happened," he said.
Venezuela Request
Oil prices have plunged since OPEC, led by its largest producer Saudi Arabia, decided in 2014 to defend market share rather than cut output as supplies grew. In December the group effectively abandoned its output ceiling, fueling concern that the surplus will expand further. Venezuela has written to fellow members requesting an emergency summit as government revenue dwindles.
Novak said he has confirmed that Russia would participate in any talks. Four OPEC delegates said yesterday there's no gathering planned.
"It's hard for me to say" if there will be a meeting, Novak said. Until this week, Russia, which relies on energy for more than 40 percent of its budget revenue, had repeatedly stated its goal of keeping crude production stable even as prices tumbled. Still, this month's price slump has put the country under increasing financial pressure. The Finance Ministry says the nation's budget deficit, already at a five-year high in 2015, may widen this year as the rout deepens.
Thursday's oil-price reaction may be "without basis," according to Alexander Kornilov, an analyst at Aton LLC in Moscow who doubts that Russia would find a way to cooperate with OPEC when the group's own members don't stick to output agreements. "People got bored and tired with lots of bad news on crude oil and are hungry for any positive statement, no matter if it sounds realistic or not," he said.
Russia is the world's largest oil producer behind Saudi Arabia, according to BP Plc data from 2014. The two countries last met in November and there have been no approaches since, Novak said. "Saudi Arabia's position has always been, as they have publicly commented, that the market will balance itself at lower oil prices," he said.
Russia may adjust its forecast for stable Russian oil output in 2016, Novak said, citing lower prices since the Energy Ministry last collected data from the industry.
Before it's here, it's on the Bloomberg Terminal.
LEARN MORE