Kuroda Emulates Draghi on Negative Rates as Yield Drop Curbs Yen
by and
Japan bond yields close gaps with Germany's after BOJ surprise

Central banks seen competing on negative interest rates: SMBC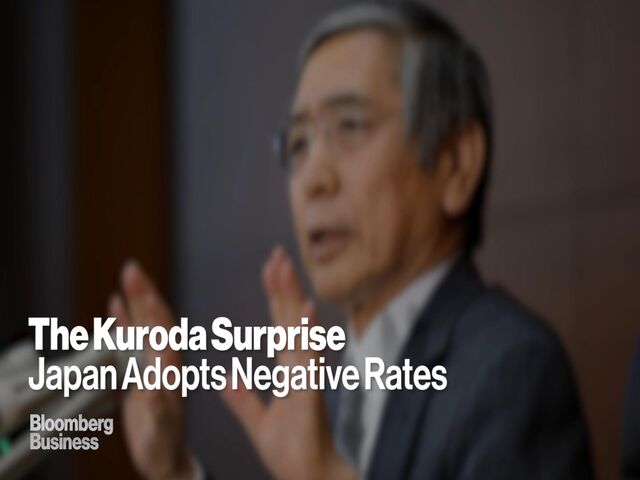 Bank of Japan Governor Haruhiko Kuroda is matching European Central Bank President Mario Draghi in pursuing negative interest rates, and even pulling ahead when it comes to driving longer-term bond yields lower.
The yen plunged more than 1 percent against the euro after Kuroda unexpectedly cut the rate on excess reserves held by financial institutions at the BOJ to minus 0.1 percent. Two-year Japanese government bond yields sank to minus 0.085 percent, closing the gap on German negative yields, while 10-year JGB yields of 0.09 percent are lower than similar-dated bunds. Kuroda said the central bank will cut the rate further if needed and that he expects to drive yields lower across the bond curve.

"It looks like there will be a competition on negative rates with central banks including the ECB," said Mari Iwashita, chief market economist at SMBC Friend Securities Co. in Tokyo. "The BOJ now has to defend its position in the race, which is likely to persist until uncertainties over emerging economies dissipate."
The BOJ joined monetary authorities across Europe in betting central bank rates below zero will reduce borrowing costs for companies and households, driving demand for loans as well as encouraging investment in higher-yielding assets. Critics argue the policy only perpetuates tit-for-tat currency devaluations, impoverishes commercial lenders and their customers, and encourages fiscal indiscipline by governments enjoying lower borrowing costs.

Yields on JGBs maturing in up to a decade tumbled to records. The discount for 10-year sovereign bonds versus German bunds widened to as much as 31 basis points, while the premium offered by two-year Japanese securities over Germany's shrank to as little as 37 basis points. A basis point is 0.01 percentage point.
Further Declines
"I would actually put a more than 50 percent chance that we will see negative 10-year rates in the next one month," said Takuji Okubo, the Tokyo-based chief economist at Japan Macro Advisors. "I wouldn't be surprised if we were to see an extended depreciation of the yen in the next couple of weeks." 
The yen declined 1.3 percent to 131.70 per euro as of 9:37 a.m. in London on Friday and earlier reached 132.32 for the first time since Dec. 29. It was as strong as 126.17 per euro as recently as Jan. 21, when Draghi said ECB officials will review their programs at the next policy session on March 10, and there are "no limits" on how far they're willing to deploy measures within their mandate.
"It's a surprise -- I thought the BOJ would hold policy," said Hideaki Kuriki, a bond investor in Tokyo at Sumitomo Mitsui Trust Asset Management, which oversees $55.4 billion. "They think the ECB policy is successful so they're taking the same policy. JGB yields will go down."  
The BOJ made its announcement hours after government reports showed the Japanese economy was unexpectedly weak in December, with bigger-than-anticipated declines in industrial production and household spending.
'A Bazooka'
Kuroda said Friday that negative rates don't replace quantitative easing, they simply add to the BOJ's options. The central bank pushed back its time frame for reaching stable 2 percent inflation to around the six months starting in April 2017, the third postponement in less than a year. The bank now sees inflation rising 0.8 percent in the 12 months starting this April, down from a previous forecast of 1.4 percent.
European and Japanese policy makers have faced extra pressure to boost stimulus after the yen and euro outperformed major peers for most of this month amid demand for havens as tumbling crude oil prices and concerns China's economy is slowing spurred a more than $6 trillion rout in global stock markets.
"It's probably fair to call this a bazooka" from Kuroda, said Daisaku Ueno, the chief currency strategist at Mitsubishi UFJ Morgan Stanley Securities in Tokyo. "The ECB may play its cards for further negative rates and an extension of quantitative easing in March."
European Authorities
Negative yields mean that sovereign bond holders are actually paying for the privilege of lending governments money. Of course, investors likely don't plan to hold the securities that long -- they want to sell them again later, betting that prices will rise further, pushing yields even lower.
The Swiss National Bank and Sweden's Riksbank are among other monetary authorities implementing negative interest rate policies.
"It seems as though the BOJ is reaching a no point of return after pursuing a measure that depends on the surprise element in its implementation and has an issue in terms of accountability," said Shuji Shirota, the head of the macroeconomic strategy group at HSBC Securities Japan Ltd. in Tokyo. "Theoretically speaking it is possible to cut negative rates further, but there will always be a limit as to how much they can do."
Before it's here, it's on the Bloomberg Terminal.
LEARN MORE