Kazakhstan Mulls Dollar-Linked Subsidies for Green Energy
by and
Landlocked, oil-rich nation plans 10% green energy by 2030

Nations to compete for renewable capital after climate talks
Kazakhstan is considering pegging the subsidies it pays for renewable energy to the dollar in a bid to attract foreign investors after its currency plunged by half in the past year.
The country's Energy Ministry is assessing how the program may increase domestic electricity prices, the Astana-based ministry said by e-mail. It will publish more details once it gets government approval for the program, the ministry said.  
The landlocked nation of 18 million, the largest oil producer among former Soviet republics after Russia, is seeking to meet 3 percent of its energy needs from renewables by 2020 and 10 percent by 2030. The crash in crude that has roiled the traditional energy industry has largely spared renewables, which globally raked in a record $329 billion of investment last year, according to Bloomberg New Energy Finance.
"When you invest in renewable energy, you first invest in the country," said Laurent Segalen, a managing partner at Megawatt-X Ltd. in London, which advises on renewable-energy financing and has a partnership with the Kazakhstan Stock Exchange. Countries that best protect investors against losses, including from currency movements, will more easily win the money to meet their climate targets, he said.
The country shifted to a floating exchange rate in August as tumbling crude prices and devaluations by Russia and China boosted the cost of defending the currency.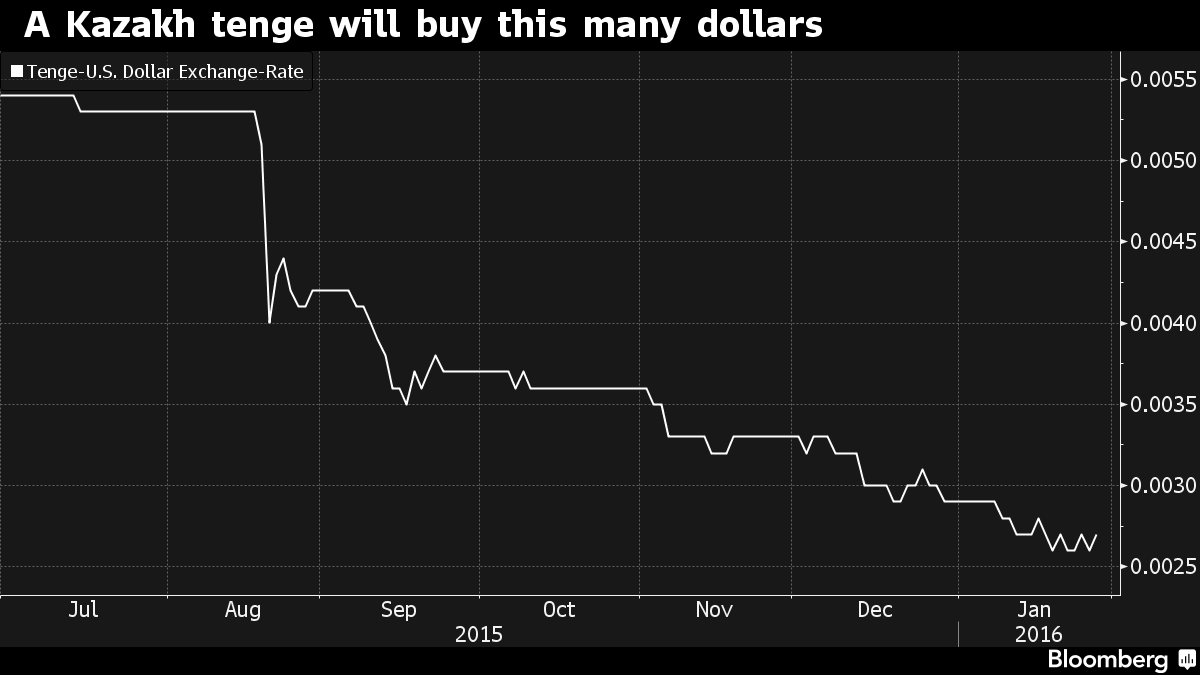 Kazakhstan subsidizes renewable energy production to encourage investment in clean energy. Solar power generators get 34.61 tenge ($0.09) per kilowatt-hour of electricity, which was worth the equivalent of $0.19/kWh when the tariff was set in June 2014. The rates can be changed only once every three years.
Almost 200 nations including Kazakhstan agreed to curb output of greenhouse gases at a United Nations meeting in Paris last month. 
Other countries are already linking green subsidies to the U.S. currency. Uruguay's state-owned utility makes payments to wind generators in pesos under contracts that are indexed to the dollar, said Lilian Alves, an analyst with Bloomberg New Energy Finance in Sao Paulo.
"If you don't have that mechanism, you will struggle to get the foreign investment, especially if you are a small country," Alves said by phone.
KfW IPEX-Bank GmbH, a unit of Germany's KfW development bank, prefers to provide finance in euros or dollars when it's difficult to predict how currencies will develop over time, according to Camilo Cordero, a wind power finance specialist in Frankfurt for the institution.
"We prefer a power-purchase agreement in the currency of the finance," Cordero said.
Before it's here, it's on the Bloomberg Terminal.
LEARN MORE