Is Angela Merkel Losing Her Clout?
Merkel's under attack over refugees.
By and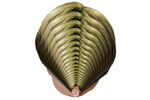 The event should have been a breeze for Angela Merkel. The German chancellor was giving a speech on the importance of funding science at a new physics research center in the eastern city of Halle—no problem for a physicist-turned-politician. But a few minutes into her address, Merkel was confronted by a heckler demanding a change in Germany's stance on refugees. Though the chancellor kept her cool, thanking the heckler and telling him, "I will stand by my responsibility," the incident highlights the increasing hostility she faces over her open-door policy on migrants.
After the arrival of 1.1 million refugees in Germany last year, with thousands more showing up every day, Merkel's leadership is being tested as never before. Convinced that closing borders would bring down Europe's system of passport-free travel, which Merkel has called the centerpiece of the region's single market, she has sought to cajole neighbors into taking in more refugees and to persuade Turkey to keep migrants from crossing into the European Union. After simmering throughout the summer and fall, the controversy boiled over in the first week of 2016. Shortly after revelers ushered in the New Year with Champagne and fireworks, scores of women across Germany reported sexual assaults during the festivities. In Cologne, groups of men gathered at the foot of the city's Gothic cathedral and surrounded women, groping and pickpocketing them. Police said more than 1,000 men, mostly from North Africa and the Middle East, many of them asylum seekers, were at the scene.
Members of Merkel's coalition government soon stepped up calls for quotas on refugees, deportation of those who commit crimes, and holding facilities for migrants in border zones. German President Joachim Gauck said the country should consider ways to limit the influx. And the sharpest criticism has come from the closest ally of Merkel's Christian Democratic Union, Bavaria's governing Christian Social Union. To shore up support, Merkel made an uprecedented visit to the CSU's annual retreat at the snowy Alpine resort of Wildbad Kreuth. After lederhosen-clad children presented the chancellor with a bouquet of flowers, 100 delegates angrily told her their communities were buckling under the wave of migrants and demanded a cap on arrivals. When Merkel stood by her refusal to impose a limit, CSU Chairman Horst Seehofer threatened to file a constitutional complaint charging the federal government with failing to control the borders and warned that 2016 could end up topping last year's record influx of migrants. "My patience is at an end," he told reporters.
The discord at home threatens Merkel's influence in the 28-member EU. As the leader of Europe's biggest economy, Merkel has dominated the EU's response to the euro debt crisis with her insistence on budget discipline and labor-market reforms. But given her growing isolation on immigration, she may find it harder to maintain European unity over sanctions on Russia and to bolster support for concessions to help keep Britain in the EU. Voters there are preparing for a referendum on the issue as soon as this summer. Merkel has already given up on forging an agreement that would obligate all EU countries to accept refugees and will instead settle for voluntary action, according to a person familiar with her strategy. The chancellor has said that she'll reassess the EU's approach to migrants after a summit on resettlement in mid-February, but the sentiment across Europe appears to be shifting away from her. To the north, Denmark and Sweden are tightening control of their borders. To the east, formerly communist EU member states have refused to take in any more asylum seekers. And to the south, Austria, once a stalwart supporter of Merkel, announced a cap on immigration on Jan. 20.
The fallout has left Merkel more vulnerable than she's ever been in her decade-long chancellorship, with open speculation in Berlin and beyond over how long she can hold on to her job. Yet Merkel has no obvious successor or challenger in the CDU, which prides itself on loyalty and stability—and whose parliamentarians largely have Merkel's stature to thank for their seats. Two years ago she won a third term with her party's biggest election victory since German reunification. And the man most often touted as a potential successor, 73-year-old Finance Minister Wolfgang Schäuble, once the heir apparent to former Chancellor Helmut Kohl, has been notable in rising to her defense.
Merkel holds another trump card: the economy. With record-low unemployment and steady growth, Germans have money in their pockets and are increasingly willing to spend it. The Finance Ministry announced a 2015 budget surplus of €12.1 billion ($13.1 billion), more than double the previous estimate, and said a balanced budget this year is still possible despite costs tied to asylum-seekers. Furthermore, the unrest over her refugee stance has been limited to her own bloc. Merkel governs in a coalition with the left-leaning Social Democratic Party, whose members broadly support her on immigration, as does the opposition. The CSU's challenge to Merkel "amounts to a breach of the coalition," top Social Democrat lawmaker Thomas Oppermann said on Jan. 26.
Three state elections on March 13 could provide an indication of the peril Merkel faces. While her CDU stands a good chance of winning all three—and ousting rivals in two of them—a large turnout for the anti-immigrant Alternative for Germany party could make the wins look like losses. Merkel has shown no sign of backing down. In the Black Forest city of Freiburg on Jan. 13, she noted that countries closer to Syria have found a way to accommodate many more refugees than the Germans have. "If a continent like Europe, with 500 million people, is not capable of taking in 1 million Syrians, perhaps temporarily," she told a crowd of students and local grandees, "that is not in line with our values."
The bottom line: As German Chancellor Merkel gets more isolated at home on the refugee issue, her influence in Europe wanes.
Before it's here, it's on the Bloomberg Terminal.
LEARN MORE