Indian Lender Surges Most Since 2013 on Asset Quality Surprise
by
Yes Bank jumps 11% as credit-cost guidance cut to 50 bps

Lender with lowest bad-loan ratio is India's best bank stock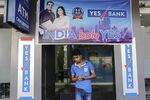 Yes Bank Ltd., the Indian lender with the lowest bad-loan ratio, gained the most since September 2013 months after saying it expects an improvement in its asset quality this quarter, making it the nation's best-performing banking stock this month.
The stock jumped 11 percent to 746.80 rupees in Mumbai on Friday, outperforming bigger rivals including ICICI Bank Ltd. and State Bank of India this month. With a 2.9 percent advance this year, it is the only gainer on the 10-member S&P BSE India Bankex Index, beating the broader benchmark S&P BSE Sensex, which fell 5 percent.
The Mumbai-based lender reported a 25 percent increase in net income for the quarter through December, a day after ICICI said profit rose 4.5 percent, the slowest pace in six years. Banks in India are grappling with rising bad loans amid the highest stressed-debt ratio in at least 14 years. The central bank has set a March 2017 deadline to help bolster balance sheets by increasing provisions.
Positive Surprise
Net income climbed to 6.8 billion rupees ($100 million), or 15.79 rupees a share, in the three months ended Dec. 31, from 5.4 billion rupees, or 12.68 rupees a share a year earlier, the Mumbai-based lender said in an exchange filing on Friday. The bank also reduced the so-called credit cost guidance for the year ending March 31 to 50 basis points from an earlier 50-70 basis points.
"Yes bank's guidance for an improvement in asset quality in the March quarter came as a positive surprise," Karthikeyan P, a Chennai-based analyst at Cholamandalam Securities Ltd., said in a telephone interview. "While we are not expecting any short-term negative surprises, the bank's asset quality in long term will be dependent on economy's performance."
Bad loans as a part of the total rose to 0.66 percent from 0.61 percent in the previous quarter. Yes Bank "continues to show resilience on all asset quality parameters with an improving outlook going forward," Chief Executive Officer Rana Kapoor said in an e-mailed statement.
UBS Group AG analysts led by Vishal Goyal, in a July research note, wrote that loans approved by the Mumbai-based bank to so-called potentially stressed companies tripled in the three years to March 31, 2015. 
These loans could sour because of risks arising from continued stress in sectors such as steel, power and construction, the analysts wrote. Yes Bank "strongly refuted" the contents of the report, which "exaggerated the exposures," the lender said in an e-mail the same month.
Before it's here, it's on the Bloomberg Terminal.
LEARN MORE