Hunt or Be Hunted Is New Face of European Investor Activism
by , , and
Swedish investor Cevian is taking aim at ABB, Thyssenkrupp

Using the press as a megaphone "doesn't pass unnoticed"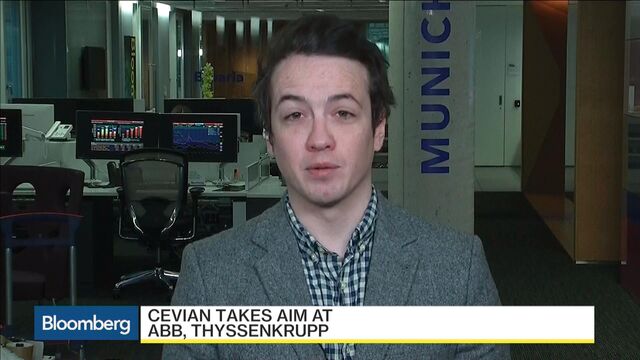 When Cevian Capital buys a stake in your company, you have a choice: Join the hunters or become the hunted.
It's a decision the leaders of German industrial conglomerate Thyssenkrupp AG and Swiss engineering giant ABB Ltd. may soon face. Cevian has built the second-biggest stake in both companies, and if executives fail to execute its demands the firm will soon start a phase insiders call "The Hunt": Seeking to turn investors against management to achieve its goals, which often entail shedding business units.

"They try to increase pressure by announcing what they want publicly," said Mikael Wickelgren, a researcher at the University of Gothenburg in Sweden. The press is "a good megaphone for what they think. It doesn't pass unnoticed."
In the 14 years since management consultant Christer Gardell and investment banker Lars Forberg founded Cevian, the Stockholm-based fund has followed the lead of American activists such as Bill Ackman, David Einhorn, and Carl Icahn, an early backer of Cevian and Gardell's occasional tennis partner. 
Though Cevian and other European activists typically eschew the public proxy fights used by their American peers, they follow a similar script in building up a stake large enough to ensure that management is obliged to listen. They then press for change, first behind the scenes and -- if that doesn't work -- by going public with their criticism.
Cevian's looming battles in Germany and Switzerland highlight how activism is reshaping European boardrooms. In the past two years, 56 percent of activist campaigns for board seats have succeeded, up from a bit more than a third over the past 15 years, according to advisory firm FTI Consulting.
"An uptick in home-grown activism has increased pressure" on European managers, said Husein Bektic, an analyst at researcher Activist Insight Ltd. in London. "Institutional investors are open to using activist tactics and supporting campaigns by activist funds."
ABB Break-Up
At ABB, Cevian has pushed for asset sales and even floated the idea of splitting the group into three companies, focusing on automation, low-voltage equipment, and power grids, according to people familiar with the discussions. The rationale is that standalone businesses can act with greater agility, and that investors will benefit from higher valuations as automation specialists trade at higher multiples than power companies. ABB says it's "reviewing all options" for power grids and declined to comment on the other two divisions.
Cevian says it benchmarks its investments against similar companies and helps management bring corporate performance in line with competitors. "This requires intensive, fact-based work and literally years of effort, but it is worthwhile," the firm said in a statement responding to Bloomberg queries. When it speaks to the press, Cevian says, it is simply "to explain who we are and what we do."
'The Butcher'
Cevian's investment in Volvo AB illustrates The Hunt. After buying into the truck maker in 2006, Gardell ratcheted up the pressure, demanding improved profitability in interviews with Sweden's Dagens Industri and other local media. Volvo (which sold the automaker of the same name in 1999) raised profit targets and announced special dividends.
In 2013, Gardell -- who has been dubbed "the Butcher" by the Swedish press -- told Dagens Industri that he would "hold the board responsible" for delivering savings from a cost-cutting program. Volvo chief executive officer Olof Persson soon increased the number of planned job cuts to 4,400.
Cevian still wasn't satisfied. By last February, the investment firm had become Volvo's biggest shareholder. In April, Cevian partner Eckhard Cordes joined the board, which promptly ousted Persson (who declined to comment). In October, an information technology business -- which Cevian had wanted to shed for years -- was put up for sale. The Hunt had claimed its victims. 
Gardell has applied similar pressure at companies in Sweden, Finland and Britain. An early investment was phone company TeliaSonera AB, where Cevian persuaded shareholders to oust half of the eight-member board. At Finnish mining-equipment maker Metso Oyj, Cevian long advocated divesting the paper, pulp and energy unit. After Metso spun off the business two years ago, shareholders got stock in a new company and saw the value of their investment jump by more than 25 percent.

Cevian has reported stakes in about a dozen companies, including Danske Bank AS, Swiss freight forwarder Panalpina Welttransport Holding AG, and British engineering company Vesuvius Plc. Cevian manages 14 billion euros ($15.1 billion) of assets in its two funds, about quadruple what it had in 2008. The larger fund returned an average of 13 percent in the three years through March 2015, according to the New York State and Local Retirement System, an investor. In a June filing with the U.S. Securities and Exchange Commission, Cevian said it charges a 1.5 percent to 2 percent annual management fee and takes about 20 percent of net capital appreciation.
Even as Cevian says it works to improve operational performance, the return from many of its flagship investments has disappointed: Thyssenkrupp, ABB, Volvo and Bilfinger shares have all underperformed their respective benchmark indices since the fund first invested. Divestments would be a fast way to buck that trend.
Swedish Forests
The firm decides to build a stake in a company only after more than 100 meetings, where its analysts interview current and former executives, labor representatives, customers and suppliers, according to a person familiar with the strategy. The firm invariably starts amicably, sometimes inviting executives on actual hunting expeditions through the forests of northern Sweden.
With its shareholdings, Cevian seeks seats on committees responsible for setting strategy and appointing managers. Gardell, who leads operations from a four-story limestone townhouse overlooking Stockholm's Humlegarden Park, is vice-chairman of Metso. Co-founder Forberg sits on Volvo's nomination committee. Zurich-based partner Jens Tischendorf, a veteran of consultancy A.T. Kearney Inc., is a supervisory board member at Thyssenkrupp and industrial services specialist Bilfinger SE.
With its intensive grilling of executives and unit chiefs, Cevian focuses more deeply on its investments than most members of supervisory boards, who typically dedicate just a few days a month to a company, according to people familiar with the firm. When they spot inefficiencies or opportunities to profit from a spinoff, they're quick to recommend selling units, one person said.
That's happening at Bilfinger, where Cevian has two supervisory board seats including the chairmanship. With the backing of Cevian, which owns 26 percent of Bilfinger's shares, CEO Per Utnegaard last year said he would sell units that build and maintain power stations and that the two key divisions -- industry and real estate -- will start operating independently. The investment, though, hasn't yet proven profitable, and the stock has dropped by half in the past 18 months.
Shareholder Buffet
Thyssenkrupp is resisting Cevian's pressure. The fund announced it had accumulated a 5.2 percent stake in 2013, which it has since increased to 15 percent. CEO Heinrich Hiesinger outflanked Gardell by securing the supervisory board's unanimous approval for a plan to transform Thyssenkrupp into a diversified industrial group in November 2014, two months before a Cevian partner became a director. Thyssenkrupp declined to comment.
At Thyssenkrupp's annual shareholder meeting on Friday in Bochum, Germany, another shareholder Union Investment urged the company to divest some of its technology units. "Lean, focused business models -- so-called pure plays -- are now in greater demand than conglomerates," fund manager Ingo Speich said in prepared remarks.
To limit Cevian's insight into Thyssenkrupp, Chairman Ulrich Lehner has barred the fund's partners from speaking with anyone other than him and Hiesinger, according to a person familiar with the steelmaker. Those moves have spurred Gardell to start preparing The Hunt at Thyssenkrupp, according to two people who regularly deal with Cevian.
"The times when investors only show up at shareholder meetings for the buffet are over," said Harald Selzner, a lawyer at Latham and Watkins in Dusseldorf who advises companies coping with activists. "Activism is changing how boards in Europe run their business and interact with shareholders."
Before it's here, it's on the Bloomberg Terminal.
LEARN MORE