Honeywell Matches Profit Estimate as Aerospace Sales Rise
By
Cost cutting helps overcome lower sales to oil industry

CEO Cote's focus on improving margins helps bottom line
Honeywell International Inc. posted profit that matched analysts' estimates as aerospace sales increased, bolstered by deliveries of jet engines, and overall margins expanded amid cost cuts.
Earnings excluding pension adjustments increased to $1.58 a share, the maker of thermostats and factory-automation software said in a statement Friday. Sales, hurt by lower demand for oil-and-gas equipment and services, fell 2.8 percent to $9.98 billion. Analysts had anticipated $9.99 billion.
The shares climbed 5.3 percent to $103.20 at the close in New York, logging the biggest one-day gain since Dec. 16.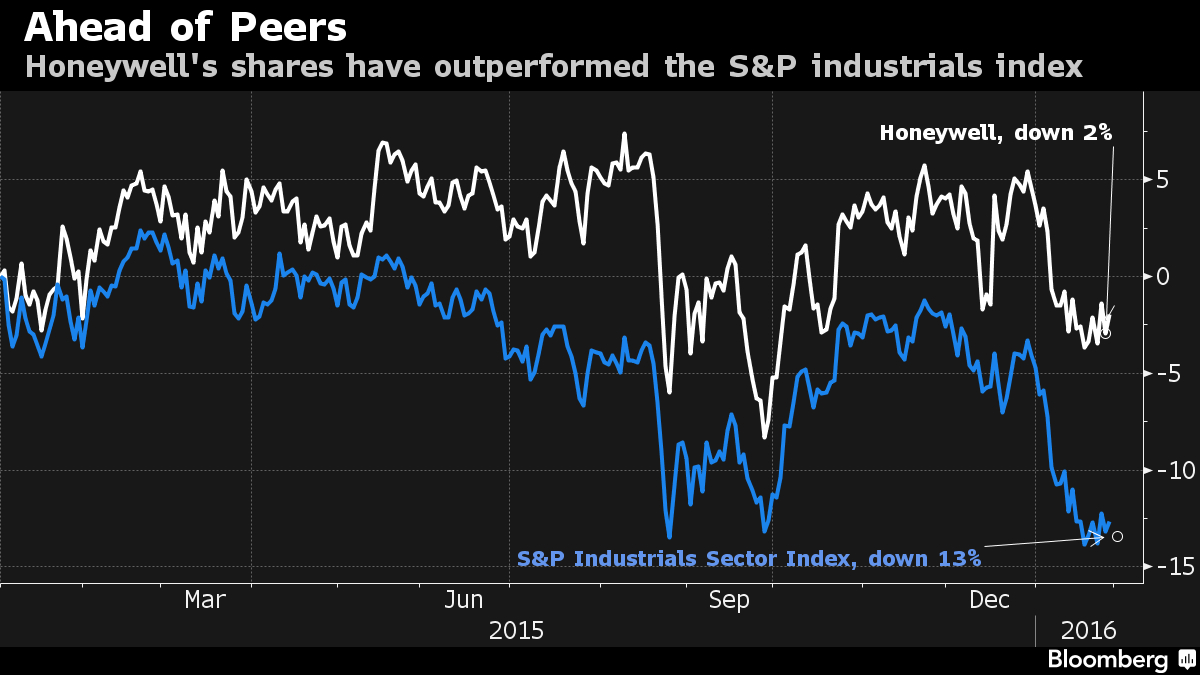 Honeywell, like most U.S. industrial companies, has struggled as a strong dollar and lower oil-and-gas investment have hurt sales. Chief Executive Officer Dave Cote has cut costs and improved efficiency to boost profit.
"We'll continue to plan our costs and spending conservatively, ensuring we remain flexible as a company," Cote said in a conference call with analysts.
Aerospace was the bright spot for Honeywell during the quarter with sales rising 3.7 percent to $3.98 billion. Revenue dropped 12 percent at Performance Materials and Technologies, which sells equipment and services to the oil and gas industry, and decreased 3.3 percent for the Automation and Control Solutions unit.
Profit margins at the business units increased to 18.8 percent from 15.9 percent a year earlier. Sales excluding acquisitions and foreign currency were unchanged.
Honeywell reiterated a 2016 earnings forecast of $6.45 to $6.70 a share on sales of $39.9 billion to $40.9 billion. Honeywell forecast first-quarter per-share earnings of $1.48 to $1.53, compared with analysts expectations of $1.49.
"We're facing challenging end markets, but we have a credible and attainable plan to achieve this guidance," Cote said of the company's profit forecast for the year.
Honeywell made acquisitions of about $6 billion in 2015, including the $5.1 billion purchase of Elster, which closed at the end of December and will add about $1.8 billion of sales each year. The company "can hopefully" make acquisitions for a similar amount this year, said Chief Financial Officer Tom Szlosek on the call.